Details

Published: 05 March 2016

05 March 2016
Atlases below have agreed to ICAN's Statement of Support/Intent to Collaborate
Atlas/Organization Name
Atlas Logo/Link
Contact Person
Summary Document
African Marine Atlas South Africa, Ghana, UNESCO IODE
Mika Odido,

This email address is being protected from spambots. You need JavaScript enabled to view it.

Selorm Ababio


This email address is being protected from spambots. You need JavaScript enabled to view it.

Overview
African Marine Info. Sys., European Commission
Nicolas Hoepffner,

This email address is being protected from spambots. You need JavaScript enabled to view it.

Overview

Agulhas and Somali Currents Large Marine Ecosystems (ASCLME) Project African Marine Atlas Team, South Africa
Lucy Scott,

This email address is being protected from spambots. You need JavaScript enabled to view it.

AMA Overview ASCLME

Alaska Coastal Atlas, Alaska Coastal Mgmt Program, USA
Joanne Schmidt,

This email address is being protected from spambots. You need JavaScript enabled to view it.

Atlas Under Construction
Alaska Shorezone, USA
Steve Lewis,

This email address is being protected from spambots. You need JavaScript enabled to view it.

Mary Morris,

This email address is being protected from spambots. You need JavaScript enabled to view it.

Overview1 Overview2
Atlas of the Lagoon of Venice, Italy
Alessandro Mulazzani,

This email address is being protected from spambots. You need JavaScript enabled to view it.

Stefano Guerzoni,

This email address is being protected from spambots. You need JavaScript enabled to view it.

Overview
Belgian Coastal Atlas (De Kustatlas)
Kathy Belpaeme,

This email address is being protected from spambots. You need JavaScript enabled to view it.

Overview
Bulgarian Black Sea Coastal Atlas
Hristo Stanchev,

This email address is being protected from spambots. You need JavaScript enabled to view it.

Overview
British Columbia's Coastal Resource Information System (CRIMS), Canada
Carol Ogborne

This email address is being protected from spambots. You need JavaScript enabled to view it.

Overview

California Coastal Atlas, USA
John Helly,

This email address is being protected from spambots. You need JavaScript enabled to view it.

Overview
California Coastal Geoportal, California Ocean Protection Council, USA
Daniel Santillano,

This email address is being protected from spambots. You need JavaScript enabled to view it.

Web Site | Related Study
California Ocean Uses Atlas, USA
Mimi D'Iorio,

This email address is being protected from spambots. You need JavaScript enabled to view it.

Overview
Caribbean Marine Atlas Barbados, Trinidad & Tobago, UNESCO IODE
Ramon Roach

This email address is being protected from spambots. You need JavaScript enabled to view it.

Overview
Coastal and Marine Information System of Andalusia, Spain
Jose Enrique Frieyro de Lara

This email address is being protected from spambots. You need JavaScript enabled to view it.

Overview
Coastal and Ocean Information Network Atlantic, Canada
Andy Sherin

This email address is being protected from spambots. You need JavaScript enabled to view it.

Overview
Coastal Atlas of Sao Paulo, Brazil
Luis Américo Conti,

This email address is being protected from spambots. You need JavaScript enabled to view it.

Overview of Atlas Under Construction
Compass Informatics, Ireland/EU
Roger Longhorn,

This email address is being protected from spambots. You need JavaScript enabled to view it.

Overview 1 Overview 2
Coral Health Atlas, USA
John Burns,

This email address is being protected from spambots. You need JavaScript enabled to view it.

See Web Site
CSIR, South Africa
Louis Celliers,

This email address is being protected from spambots. You need JavaScript enabled to view it.

See web site
Data Basin, Conservation Biology Institute, USA
Jeremiah Osborne-Gowey,

This email address is being protected from spambots. You need JavaScript enabled to view it.

Overview
Digital Climatic Atlas of Mexico
Agustín Fernández-Eguiarte,

This email address is being protected from spambots. You need JavaScript enabled to view it.

Overview
Environmental Marine Information System, European Commission
Nicolas Hoepffner,

This email address is being protected from spambots. You need JavaScript enabled to view it.

Overview
African Marine Info. Sys., European Commission
Nicolas Hoepffner,

This email address is being protected from spambots. You need JavaScript enabled to view it.

Overview

EurOcean, Portugal
Ned Dwyer,

This email address is being protected from spambots. You need JavaScript enabled to view it.

Overview
European Environment Agency, EU
Andrus Meiner

This email address is being protected from spambots. You need JavaScript enabled to view it.

Overview
Flanders Marine Institute (VLIZ), Belgium
Simon Claus,

This email address is being protected from spambots. You need JavaScript enabled to view it.

See web site
Great Lakes Commission, USA/Canada
Stuart Eddy,

This email address is being protected from spambots. You need JavaScript enabled to view it.

Atlases Under Construction

Great Lakes Shoreviewer, USA
Natasha Koss,

This email address is being protected from spambots. You need JavaScript enabled to view it.

Overview

Gulf of Mexico Data Atlas, USA
Kathryn Rose,

This email address is being protected from spambots. You need JavaScript enabled to view it.

Overview

Hawaii Coastal Atlas, USA
John Helly,

This email address is being protected from spambots. You need JavaScript enabled to view it.

Overview
HELCOM, Baltic Marine Environment Protection Commission, Finland
Joni Kaitaranta

This email address is being protected from spambots. You need JavaScript enabled to view it.

Overview
INDIGEO, France
Mathias ROUAN,

This email address is being protected from spambots. You need JavaScript enabled to view it.


Françoise GOURMELON,

This email address is being protected from spambots. You need JavaScript enabled to view it.

Overview
Istituto Nazionale di Oceanografia e di Geofisica Sperimentale (OGS), Italy
Mihai Burca,

This email address is being protected from spambots. You need JavaScript enabled to view it.

Overview 1 Overview 2
Korea Environmental Science & Technology Institute, Korea
Gigab Ha,

This email address is being protected from spambots. You need JavaScript enabled to view it.

See web site
Land-Ocean Interactions in the Coastal Zone (LOICZ), EU
Hartwig Kremer,

This email address is being protected from spambots. You need JavaScript enabled to view it.

Not Yet
Living North Sea University of Aberdeen, UK
David Green,

This email address is being protected from spambots. You need JavaScript enabled to view it.

Overview
MAGIC, UK
Kevin Colcomb,

This email address is being protected from spambots. You need JavaScript enabled to view it.

Overview
Maine Coastal Atlas/Northeast Data Portal, USA (both in progress)
Riley Young Morse,

This email address is being protected from spambots. You need JavaScript enabled to view it.

See web site
Marine Institute, Ireland
Ramona Carr,

This email address is being protected from spambots. You need JavaScript enabled to view it.

See web site
Marine Irish Digital Atlas (MIDA), Ireland
Ned Dwyer,

This email address is being protected from spambots. You need JavaScript enabled to view it.


Kathrin Kopke,

This email address is being protected from spambots. You need JavaScript enabled to view it.

This email address is being protected from spambots. You need JavaScript enabled to view it.

Overview Video
Maryland's Coastal Atlas, USA
Chris Cortina

This email address is being protected from spambots. You need JavaScript enabled to view it.

Overview
MUMM Marine Management Atlas, Belgium
Serge Scory


This email address is being protected from spambots. You need JavaScript enabled to view it.

,

This email address is being protected from spambots. You need JavaScript enabled to view it.

See web site
New York Ocean & Great Lakes Atlas, USA
David Healy

This email address is being protected from spambots. You need JavaScript enabled to view it.


Katie Budreski,

This email address is being protected from spambots. You need JavaScript enabled to view it.

Web Site
NOAA Legislative Atlas (NOAA Digital Coast), USA
Adam Bode,

This email address is being protected from spambots. You need JavaScript enabled to view it.

Overview
NOAA Multipurpose Marine Cadastre, USA
Adam Bode,

This email address is being protected from spambots. You need JavaScript enabled to view it.

Overview
North Carolina Coastal Atlas, USA
Tom Allen,

This email address is being protected from spambots. You need JavaScript enabled to view it.

Overview
North Carolina Coastal Hazards Decision Portal USA
JP Walsh,

This email address is being protected from spambots. You need JavaScript enabled to view it.

Overview
Northwest Assoc of Networked Ocean Observing Systems (NANOOS), USA
Emilio Mayorga,

This email address is being protected from spambots. You need JavaScript enabled to view it.

See web site
Ohio Coastal Atlas, USA
Brian George,

This email address is being protected from spambots. You need JavaScript enabled to view it.

Overview
Open Geospatial Consortium, USA
David Arctur,

This email address is being protected from spambots. You need JavaScript enabled to view it.

See web site
OceanWise Ltd., UK
Mike Osborne,

This email address is being protected from spambots. You need JavaScript enabled to view it.

See web site
Oregon Coastal Atlas, USA
Tanya Haddad,

This email address is being protected from spambots. You need JavaScript enabled to view it.

Overview, Update
Oregon Explorer: North Coast Explorer, USA
Janine Salwasser,

This email address is being protected from spambots. You need JavaScript enabled to view it.

Overview
Pacific Coastal Resources Atlas, Canada
Brad Mason,

This email address is being protected from spambots. You need JavaScript enabled to view it.

Overview
Partnership for Interdisciplinary Studies of Coastal Oceans (PISCO), USA
Kristen Milligan


This email address is being protected from spambots. You need JavaScript enabled to view it.

See web site
REDMIC-Integrated Marine Data Repository for Macaronesia, Spain
Antonio Machado Carrillo,

This email address is being protected from spambots. You need JavaScript enabled to view it.

Overview
 
Santos Web Atlas, Brazil
Silvia Sartor,

This email address is being protected from spambots. You need JavaScript enabled to view it.

Overview
National Marine Plan interactive, UK
Martyn Cox, 

This email address is being protected from spambots. You need JavaScript enabled to view it.

Overview
SeaSketch, USA
Will McClintock,

This email address is being protected from spambots. You need JavaScript enabled to view it.

Overview
SPINCAM, Chile, Colombia, Ecuador, Panama, Peru
Héctor Huerta,

This email address is being protected from spambots. You need JavaScript enabled to view it.

Overview
Southern California Coastal Ocean Observing System (SCCOOS), USA
Chris Cohen,

This email address is being protected from spambots. You need JavaScript enabled to view it.

See web site
Texas Coastal Communities Atlas, USA
Sam Brody,

This email address is being protected from spambots. You need JavaScript enabled to view it.

Overview
UNESCO IOC IODE
Peter Pissierssens,

This email address is being protected from spambots. You need JavaScript enabled to view it.

Mika Odido,

This email address is being protected from spambots. You need JavaScript enabled to view it.

See African, Caribbean Marine Atlases
US Geological Survey Center for Integrated Data Analytics, USA
Nate Booth


This email address is being protected from spambots. You need JavaScript enabled to view it.

See web site
Virginia Coastal Geospatial and Educational Mapping System (GEMS),USA
Laura McKay,

This email address is being protected from spambots. You need JavaScript enabled to view it.

Overview
Virginia Institute of Marine Science, USA
Marcia Berman,

This email address is being protected from spambots. You need JavaScript enabled to view it.

Partner of Virginia Coastal GEMS
Wadden Sea World Heritage Area Atlas, Netherlands
Piet Feddema

This email address is being protected from spambots. You need JavaScript enabled to view it.

Overview
Washington Coastal Atlas, USA
Liz O'Dea,

This email address is being protected from spambots. You need JavaScript enabled to view it.

Overview, Update
Water Atlas (U. of South Florida), USA
Jan Allyn,

This email address is being protected from spambots. You need JavaScript enabled to view it.

Overview
West Coast Ocean Data Portal, USA
Todd Hallenbeck,

This email address is being protected from spambots. You need JavaScript enabled to view it.

Overview
Wisconsin Coastal Atlas, USA
David Hart,

This email address is being protected from spambots. You need JavaScript enabled to view it.

Overview
Details

Published: 05 March 2016

05 March 2016
ICAN is a project of the
International Oceanographic Data and Information Exchange Programme
ICAN is a community of practice of organisations who have been meeting since 2006 to scope and implement data interoperability approaches to coastal web atlases (CWAs). In 2013 ICAN became a project of UNESCO IOC´s International Oceanographic Data and Information Exchange (IODE) Programme. The mission/strategic aim of the IODE ICAN project is to share experiences and to find common solutions to CWA development (e.g., user and developer guides, handbooks and articles on best practices, information on standards and web services, expertise and technical support directories, education, outreach, and funding opportunities, etc.), while ensuring maximum relevance and added value for the end users. The long-term view is for global-level operational interoperability which will evolve as the ICAN project members strive to increase awareness of the opportunities that exist for increased coastal and marine data sharing among policy makers and resource managers as strategic users of a CWA. ICAN members seek to play a leadership role in forging international collaborations of value to the participating nations, thereby optimizing regional governance in coastal zone management. A major goal is to help build a functioning digital atlas of the worldwide coast based on the principle of shared distributed information. We will go about this by organizing a cooperative interoperability network for the integration of locally-maintained CWAs as the premier source of spatial information about coastal zones throughout the world. We will do this by developing community-held constraints on mapping and data distribution conventions to maximize the comparability and reliability of information about our coasts. This is done to provide a basis for rationally-informed discussion, debate and negotiation of sustainable management policies for our societies, nations and people throughout the world. This has tremendous potential to be relevant for global spatial data infrastructures, marine spatial planning and related projects around the world. View our interoperability prototype at ican2.ucc.ie. Background on this prototype may be found in this American Geophysical Union poster abstract and the Report of Trans-Atlantic Workshop 2 on Coastal Atlas Interoperability. If you would like to join the IODE ICAN project or be kept apprised of our progress, please feel free to email Marcia Berman or Ned Dwyer, or to join the spam-free ICAN_updates mailing list. If you a participating institution, please consider putting an ICAN logo and link on your CWA web site! Download this zip file of logos for use on your site. Thanks to Yassine Lassoued of CMRC who designed the logos.
Founding Organizations of the ICAN Initiative:








---

Mission/Strategic Aim: The IODE International Coastal Atlas Network (ICAN) project aims to be a global reference for the development of coastal web atlases, which we define as: "...collections of digital maps and datasets with supplementary tables, illustrations, and information that systematically illustrate the coast, oftentimes with cartographic and decision support tools, all of which are accessible via the Internet." O'Dea et al., 2007, Trans-Atlantic Workshop Report 1 These atlases organize and coordinate all of the above through a single portal or entry point, with a common design theme that is followed through all of the pages of a coastal atlas web site. As such, many of these atlases play an important role in informing regional decision- and policy-making across several themes:
Marine spatial planning
Climate change impacts, coastal vulnerability
Coastal governance (boundaries, protected areas, etc.)
Coastal conservation and protected areas management
Coastal hazards
Population pressures
Resource availability and extraction
Further details about what a coastal web atlas entails may be found in ICAN's handbook, published in 2011 by IGI-Global publishers. Via the expertise of its members, ICAN intends to inform, guide and influence in a coherent manner on matters related to research, development and use of coastal web atlases. ICAN is developing several products for this purpose, such as user and developer guides, handbooks and articles on best practices, information on standards and web services, expertise and technical support directories, education, outreach, and funding opportunities, etc. Furthermore, it encourages and help facilitate global operational interoperability between coastal atlases in order to enhance data and information sharing among users. Goals and Objectives: The long-term strategic goal of the IODE ICAN project is to encourage and help facilitate the development of digital atlases of the global coast based on the principle of distributed, high-quality data and information. These atlases can be local, regional, national and international in scale. This can be achieved by sharing knowledge and experience among atlas developers in order to find common solutions for coastal web atlas development whilst ensuring maximum relevance and added value for the users. In some cases users may be significantly involved in atlas development itself. In order to reach this goal ICAN has the following objectives:
Ensure that ICAN has representation from coastal web atlas development and user groups from across the world.
Develop technical and policy guidelines to assist coastal web atlas developers in acquiring data and engaging with data providers. Accordingly, collate and publish a set of best-practise guidelines for the development of coastal web atlases.
Highlight the benefits of interoperability and standards based systems to the coastal atlas developer communities.
Develop collaborative projects for the sharing of know-how, implementation of technical solutions and demonstration of atlas benefits to users.
Align the atlas efforts of the Network partners in order that interoperability can be facilitated.
Engage with other relevant international IODE projects and developments as well as relevant activites outside of IODE.
Involve representatives of the relevant user communities to help in tailoring coastal web atlases to their needs.
To further these objectives ICAN has identified a range of activities in the areas of technical implementation, atlas assessment, outreach, training, and participation in scholarly communities, and strategic planning and funding.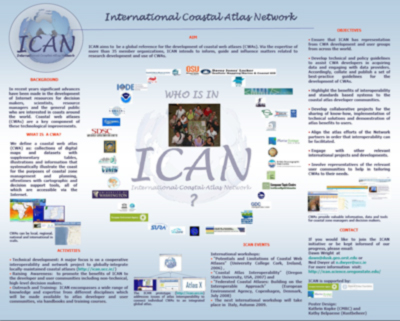 See our ICAN Poster!

Click image to enlarge Thanks to Kathrin Kopke, CMRC, Ireland and Kathy Belpaeme, Co-ordination Centre for ICZM, Belgium

See related sections on ICAN People, Organizational Partners, and Benefits

If you would like to join the IODE ICAN project or be kept apprised of our progress, please feel free to email This email address is being protected from spambots. You need JavaScript enabled to view it. or Ned Dwyer, or to join the spam-free ICAN_updates mailing list.