ICAN Workshop 1 July 24-28, 2006: Potentials and Limitations of Coastal Web Atlases, Cork, Ireland
In this first of two Trans-Atlantic workshops, expert delegates examined the current situation by studying a broad variety of existing coastal web atlases from Europe and the US. The various common issues were identified and discussed (e.g., institutional support, atlas design and usability, data accessibility, data and metadata compatibility, web-based tools for decision-support, etc.). At this workshop, the Marine Irish Digital Atlas was also officially launched.
ICAN 1 Presentations - Introduction
ICAN 1 Presentations - Atlas Case Studies
ICAN 1 Presentations - Atlas Issues
ICAN 1 Biological Data Intrgration (BIDI) Project and Arc Marine Discussion
American participation was funded by the National Science Foundation. Hosting of the event was sponsored partly by the Coastal and Marine Resources Centre as well as the Marine Institute's Marine RTDI Networking and Technology Transfer Initiative under Ireland's National Development Plan.
Host: Coastal and Marine Resources Centre, University College Cork, IRELAND
Location: University College Cork campus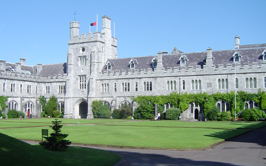 Organizers and Sponsors
---
Back to ICAN Meetings Page