Details

Published: 19 May 2017

19 May 2017

The ICAN 8 workshop: Coastal Web Atlases – Enhancing Ocean Literacy, Santa Marta, Colombia, 11-12 September 2017 will explore how a coastal web atlas (CWA) can contribute to and support ocean literacy initiatives and will examine the role of CWAs in advancing ocean literacy with different audiences.  Ocean literacy is the understanding of the ocean's influence on you and your influence on the ocean. The International Coastal Atlas Network (ICAN) is hosting the ICAN 8 workshop in 2017 to reflect on how a Coastal Web Atlas (CWA) can help to: 
Increase understanding of the importance of the ocean to humankind, 
Aid communication about the ocean in a meaningful way
Support informed and responsible decision making regarding the ocean and its resources 
The ICAN Steering Group invites abstract submissions for the ICAN 8 workshop under the following overarching thematic areas: 
Opportunities for CWAs to improve ocean literacy 
Challenges in CWA development and usage for ocean literacy
Linking in with other coastal and marine networks and organisations to explore the potential role of ICAN and ICAN CWAs within enhancing ocean literacy
ICT and ocean literacy: how advancing web literacy affects ocean literacy
Ocean literacy and engaging young people through your CWA
CWAs and community observatories
CWAs around the world – introduce your resource to the ICAN community
For more information about ICAN please browse http://ican.iode.org/ and please send your submissions to the ICAN co-chairs: 
Marcia Berman This email address is being protected from spambots. You need JavaScript enabled to view it. and Kathrin Kopke This email address is being protected from spambots. You need JavaScript enabled to view it.
Closing date for submissions: August 12th, 2017
Details

Published: 16 February 2017

16 February 2017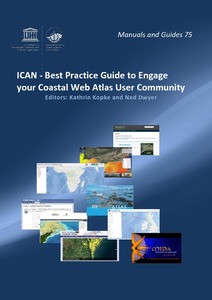 ICAN is very pleased to announce that "ICAN - Best Practice Guide to Engage your Coastal Web Atlas User Community" is now available as IOC Manuals and Guides No. 75
We have compiled this best practice user interaction guide because successful interactions with potential Coastal Web Atlas (CWA) users during the development of any CWA are as vital for the success of the resource as the continued interaction with existing audiences to ensure longevity and continued use. This hand book is conceived as a practical "cookbook" and was compiled by gathering information from ten atlas developers as well as extracting relevant information from ICAN workshop reports. The information has been summarised and analysed leading to two sets of recommendations, one focused on the development of new atlases and the other focused on how to maintain interactions with audiences of already developed atlases. We hope that the handbook will therefore allow both new and established CWA developers and hosts to benefit from best practice examples as well as learn from experienced challenges, in order to increase capacity to successfully interact with user communities and target audiences, while managing coastal and marine data and information in a user friendly way. The final product is a resource that hopes to complement and link to a variety of OceanTeacher activities, support IODE training in courses, thereby being of value to all who manage and present marine data and information.