ICAN 3 and EEA Event Blog, Copenhagen | International Coastal Atlas Network 

Sunday | Monday | Tuesday | Wednesday | Thursday | Friday
Friday, 11 July 2008
We have reached the end of this fabulous week! Several participants of the ICAN workshop engaged in final discussions on the way forward, including a very detailed discussion and refinement of our list of ACTION ITEMS, and activities of the Technical Group in the coming months. Many of us then set off for Tivoli Gardens soon thereafter to enjoy lunch aboard their floating pirate ship restaurant(!) , the gardens, and the amusement park rides! Meanwhile, Kathy Belpaeme visited the Botanical Gardens and Liz O'Dea set off on a unique geocaching adventure around the city!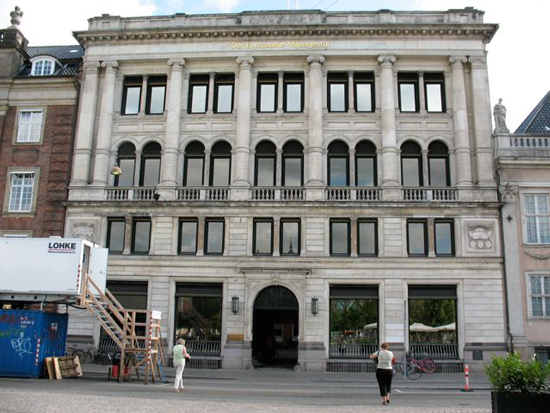 A final look at the EEA headquarters building where all of our events were held.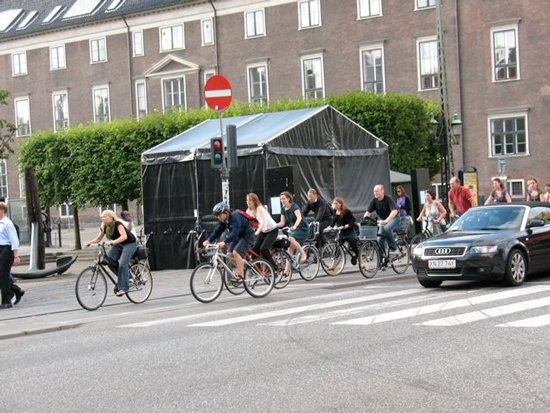 Copenhagen is truly a city of healthy bicycle commuters.

And now it is time for us to "commute" home to our respective countries! Thank you for visiting this blog! And we hope to see everyone next year during ICAN 4 at the Adriatico Guest House in Trieste, Italy, Autumn 2009! Ciao!
---
Thursday, 10 July 2008
Our EEA hosts, Ronan Uhel, Executive Director Jacqueline McGlade, and Andrus Meiner are pictured here to the left, as they listened intently to EEA conference presentations shown to them on the desktop monitors in front of them. On Day 2 of the EEA conference, we heard several presentations about the coastal atlas and general information management experiences of Belgium, France, Ireland, Spain, the general Mediterranean, Africa, and of the Global Biodiversity Information Management Facility (GBIF), headquartered right here in Copenhagen. GBIF in particular had some very good practical advice for the forthcoming implementation of ICAN. Gonzalo Malvárez, in his talk about the SIGLA coastal GIS project and developing coastal atlas, could also not resist reminding the audience that it was in fact SPAIN who had emerged victorious as the 2008 Euro Cup champion!

In addition, conference attendees heard about important collaborations between the EEA, the EPA and USGS in the U.S., as well as UNEP and other EU groups, in the area of eco-informatics. Some important work on semantics of data has been started there, in particular people working on metadata registries in the U.S., and the evolution of the "geospatial semantic web" in order to improve environmental information systems, including the long-term ecological research (LTER) sites throughout Europe. And we appreciated the time taken by EU Commissioner Miguel Nuevo-Alarcon to lay out for us the upcoming opportunities for EU funding as part of the FP7 initiative.
Truly there are many avenues for members of the ICAN community to engage in outreach, marketing, and positioning within existing broad initiatives. Ronan led us into a discussion of "what should be targeted now?" We revisited outcomes of the ICAN workshop in light of the EEA conference developments, the further "hooks" for ICAN to link to in terms of proposals, partnerships, and the gaining interest of similar groups who want to join in. We considered how we might best absorb all of this, and what is feasible along lines of strategic planning, financing and governance, as well as technical considerations (organizing the actual work).
Again, we very, VERY much appreciated the support of EEA in hosting our workshop and in securing the participation of members of the EU Commission and of various projects around Europe to speak at the conference. EEA is more than keen to provide support for next steps. Dawn announced plans in progress for ICAN to meet next year at the UNESCO University in Trieste, Italy. EEA in turn are now planning to schedule their meeting of the European national reference centers at the same venue (with an eye toward coastal and marine issues) immediately following our ICAN Workshop 4.
---
Wednesday, 9 July 2008
Wednesday morning saw the winding down of the formal ICAN workshop with a group discussion of further thoughts and questions to share, especially those arising from the side discussions that people had during the previous day's events. This discussion proved fruitful, and included a reminder that while the technical activities of ICAN are critically important, ICAN is also all about education, outreach and general capacity-building regarding coastal web atlases as well. As Tony LaVoi ably expressed it, we are trying to help our community buy down the cost of getting into the game of coastal atlases. Our discussion then segued to a presentation by Ned of some specific action items for ICAN to pursue in all realms. We will need to prioritize the items in the list (currently existing as a spreadsheet), and to prioritize them within year 1, year 2, etc. This also gives us a running start towards crafting a sustainable business model and strategic plan, as discussed in our concluding moments together before the start of the EEA conference. Amazingly, ICAN has truly advanced from just an individual project to a full-fledged program. We formally concluded the ICAN workshop with sincere and warm thanks to Ronan, Andrus, Charlotte, and the entire EEA team for their gracious and efficient hospitality, and their unflagging support and advocacy of ICAN. We clearly have a powerful ally in our corner.

Group dynamic during a coffee break of the EEA conference.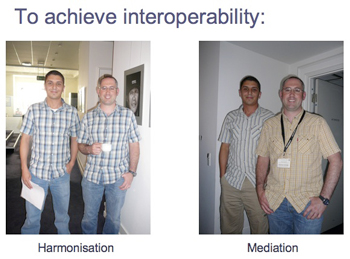 After lunch, the EEA conference was successfully launched by conference chair Ronan, and included some very informative presentations by EEA executive director Jacqueline McGlade, two EU commissioners and representatives of like-minded coastal mapping initiatives in Europe (who would be potential new partners of ICAN), as well as a preview of EU's amazing new public participation web site Eye on Earth (developed in collaboration with Microsoft, and going public on Monday 14 July 2008). Ronan shared that this conference is about how we can improve our capacities in terms of delivering information services using the most up-to-date tools and technologies, and EEA seeks facilitate a large community of coastal experts to come together and communicate (to start, Europe, USA, Africa, Australia). Dawn and Ned presented to the conference attendees an overview of ICAN, and Yassine, Tanya, and Ned ably explained and demonstrated the ICAN interoperability prototype. A definite highlight at the end of a very long, but productive, day was the comic relief supplied by Yassine as he presented this humorous example in one of his slides (to the right) of how to truly achieve interoperability! The conference attendees roared with laughter! The Euro shirt twins strike again!

By the conference's end, there were many who were up for some fun and a group of ICANers explored the eclectic community of Christiania "Free Town" Denmark, a self-contained, self-governing neighborhood with an alternative free society. See the interesting information about Christiania in Wikipedia, this site, or on their official site. Many thanks to Tanya's boyfriend Mark Scott for serving as our gracious tour guide through this very unique place!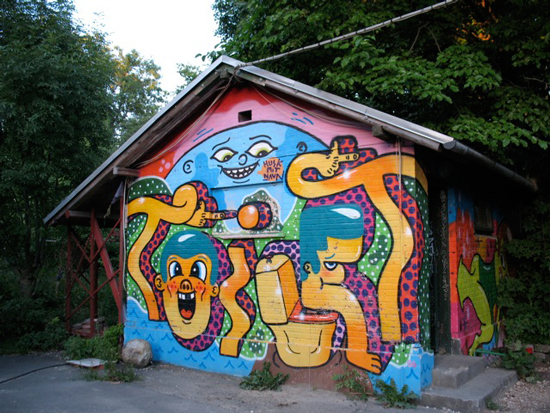 Colorful murals abound in the unique neighborhood of Christiania.
---
Tuesday, 8 July 2008
Day 2 of the ICAN workshop was an important day for extended discussions in breakout groups ...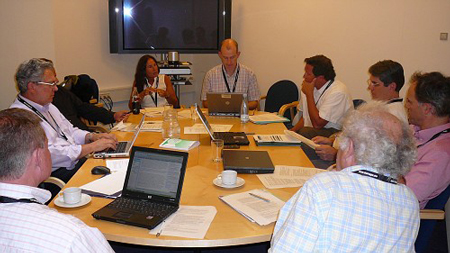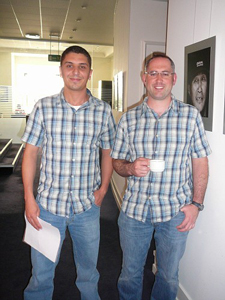 as well as a day for high fashion!

But before this, we listened to several excellent presentations about other projects, initiatives, and groups doing work of relevance to ICAN, including the ECOOP project (European COastal-shelf sea OPerational observing and forecasting; which gave us very good ideas about how to structure a main ICAN portal), the SeaDataNet initiative, the government-funded commercial projects of SeaZone Solutions Limited, and the perspectives and programs of U.S. Sea Grant (especially in the Great Lakes region of Wisconsin). We also heard about ongoing activities in the Australian/Pacific region and Africa, from the standpoint of the IODE programs.
Roy Lowry challenged us to think more clearly about how best to implement the technical governance of controlled vocabularies and, ultimately, ontologies, using the SeaDataNet approach. We really do need to watch them and learn from them as they have a huge amount of knowledge encoded in that project, and can also funnel issues and questions to a wider community and get feedback for us. Mike Osborne challenged us to look beyond the fairly "esoteric" academic community to the sharp end of industry, sharing that the technologies developed in ICAN may very well be used in the context of the private sector, such as British energy, a whole new industry of sorts. He rightly stated that the biggest barriers to SDI (spatial data infrastructure) integration are people, institutions, and institutional objectives, NOT the technology. ICAN can make a huge contribution by providing solutions in those areas.
Our breakout groups on Strategy/Funding, Governance, and Technical Issues were extremely productive. We still face many challenges in terms of long-term funding, and need to keep our momentum going by finding some way to meet again next year for Workshop 4. Possible venues discussed in side conversations included southern Europe (Italy? Portugal?) in order to engage the countries in that region and points south, as well as accompanying initiatives focused on the Mediterranean. Going back to the U.S. again for the next workshop was deemed too soon in light of the momentum that is building here in Europe.
To download today's presentations, please go back to the ICAN 3 Program page and click on the titles in blue hypertext.
Our day ended with a lovely dinner hosted by the EEA in their canteen. Several of us had the distinct pleasure of interacting with the amazingly dynamic and brilliant Executive Director of the EEA, Dr. Jacqueline McGlade (thank you to Ronan for arranging this!). Among many items discussed was the need to really focus on a high-profile issue in order to attract funders/advocates. One such issue would be climate change impacts (especially decision support for coastal communities vulnerable to climate change, island nations threatened by sea level rise, and the like). And we need to articulate the practical, applied products that would be available from ICAN (e.g., the MIDA engine that can be shared with fledging CWAs, cross-walks between FGDC and ISO, best practices for implementing OGC web services for CWAs, available solutions to help an agency or organization do better what they are ALREADY mandated to do, provision of the knowledge gained as a result of working closely with partners on a common, proven approach, etc.). Jackie challenged us to come up with real numbers in terms of who is using and benefitting from our CWAs (how many users, who they are, how much money they are saving as a result of using our CWAs), even vignettes of "success stories" or triumphs. Jackie may be able to advocate on behalf of ICAN to GMES (Global Monitoring for Environmental Security), GRAME (Global Regular Assessment of Marine Environments) and GEOSS (Global Earth Observation System of Systems) initiatives, among others. GEOSS would not provide funding, but ICAN might one day be considered as a case study implementation for GEOSS.
Today's photos were provided by Liz O'Dea. See her entire photo album in Links and Photos.
---
Monday, 7 July 2008
We welcomed approximately 30 participants to ICAN Workshop 3, which was introduced by Ned Dwyer of the CMRC and our host, Ronan Uhel of the EEA. This was followed by an overview by Dawn of what had been accomplished by ICAN 1 in Cork and ICAN 2 in Corvallis.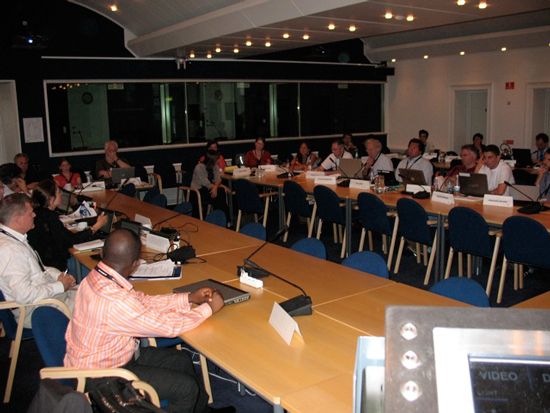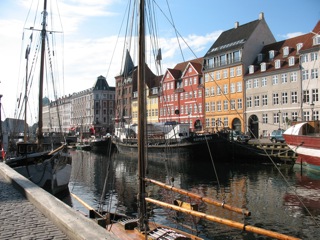 Ronan informed us that July is the perfect month in which to visit Copenhagen, and we agree!
I am realizing already that doing a nice, "narrative-style: blog may take up more time that I am able to devote this week, so for now I am merely going to post my cryptic notes that accompanied several of the talks presented today.
To download today's presentations, please go back to the ICAN 3 Program page and click on the titles in blue hypertext.
EEA is about connecting systems and monitoring systems
EEA has developed networks with UNEP and other organizations, such as private industry (esp. user-friendly systems) – we will see many examples, all in the area of accessing and exploiting information.
It is hoped that ICAN will become a major reference point in years to come. We need to continue to think about how to engage and service users, as we have been looking at things from a developer standpoint of late with the prototype.
Questions/Discussion after Yassine, Ned, and Tanya's presentation of the ICAN prototype:
What DBMS is recommended for managing metadata?
GeoNetwork, a web based Geographic Metadata Catalog System developed by FAO-UN and UNEP, is recommended.
Harmonize and mediation – harmonize for "meta" part and mediation for "data" part?
Harmonize = same technology, specifications, data structure for data level or metadata level – does not matter – however, everyone has to speak the same language, organize everything in the same way – may be too much too ask (loss of freedom and autonomy)
Distributed DBMS literature uses it a little differently = to centralize data, warehousing the data – again, here it merely means using the same technology
Roy: "Change" to conform to a common standard flying around with virtual data centers.
Have you gone down to feature type level or category/sub-category level? No, not that far yet – we've just used key words, key words that are in metadata records to describe data sets. At local level, just keywords, at global level not many levels, not at data layers level, not at attributes, not at controlled vocab level - these are next steps
Registries? There will be a need to collate various ontologies
Yes MMI registry in future, aided by BODC efforts as well
Service layer is technical – as a user of ICAN if you get your metadata records, you are interested in knowing about the service that provided the resources – yes we need to address services in future evolution of prototype.
Mapping global with local ontologies, what is quality assurance (QA)? This is a very dynamic system – who is doing quality assurance? [Just technical team – we don't care what matches what yet, just trying to get things to match, but we have discussed OWL keepers – just at technical demonstration exercise and it has been unfunded, technical governance will be discussed and will have to look at QA as a group so that resources that are developed have that in play – very attractive research in terms of uncertainty in mappings, how to track that
Difference between ontologies and thesaurus – thesaurus is just a list of concepts with their definition and relationships such as synonyms (those are the only relationships you can deal with). Ontology can be much more general such as person X is brother of person Y, which cannot be expressed in a thesaurus; ontology is more expressive, richer in semantics but still tying subjects and objects, trying to capture natural language tagging.
Ronan on ICAN and Emerging Maritime Policies:
Bottom line of EU policies is the primacy of ecosystem-based management (EBM) approach – establish grounds through mechanisms and policies and rationales with stakeholders to do things according to the EBM approach
Translate ecosystems into a marine context, but how to delineate the large marine ecosystems?
We are at the infancy of appreciating what kind of indicators we will have to elaborate in next 10 years to match env status, but also to going for a more EBM approach
Dawn – EEA would be interested in the work of Jane Lubchenco and PISCO colleagues, and the NCEAS colleagues at UCSB in terms of EBM-approach to marine world and the EBM tools network
Tony – NOAA CSC, many topics including the vision of the Digital Coast of the U.S.
Georegulation - Taking the text of a regulation and making a map of it, as the regulation were not devised very well with visible maps in mind – very hard to understand in and of itself – very much elucidated with a map and geographic data
NOAA Shoreline Web site – shoreline change, USGS vector shoreline or NOAA national shoreline – helps people to use the most appropriate shorelines for their analyses
National Needs for Coastal Mapping and Charting National Academy of Sciences Report:
This report showed, among many things that not just past mapping activities, but future and planned mapping need to be articulated
Digital Coast – coastal communities have easy access to organized and relevant data and tools needed to make more informed decisions
Common Coastal Issues
Digital Coast has just been released – ArcIMS front end that sits on top of EarthServer for raster data, a LIDAR server and ArcSDE for vector
Digital Coast in action a Google Earth interface showing where people have already used data to address coastal habitat change, inundation, and other issues
Tim on GRADD DataNet
26 pre-proposals submitted, 7 full proposals chosen from that group, 3 site visits made from that group: University of Washington, Johns Hopkins, and U New Mexico – 2 of these 3 will be funded at $20 million. In succeeding years there will be 3 more centers funded at this level. All 5 centers will focus on semantic interop of digital products. Finalists all had libraries involved, not just the domain scientists.
Ronan: Wrap-up of ICAN and Emerging Maritime Policies
We have heard about different levels of development but all with similar objectives in terms of fulfilling information services
EU Atlas of the Seas – still an objective on paper at EU level, concept remains to be invented; we can play a role in filling in what the concept should be; in Europe we have 6 different shorelines too (don't be ashamed NOAA)
Growing demand and pressure to improve basic information.
We need to define common ground together.
Research in EU is similar to US in terms of needs for potential for funding. EU needs to better prioritize projects that can really make the case, need to be better organized about this, need to stop funding projects that overlap or go in completely different directions from each other which moves the community away from achieving common objectives.
Final session on Extending the ICAN Community
Greg Reed on IODE and also Caribbean Marine Atlas
Capacity building is a cornerstone
ODINS Linking training with equipment and operational support (e.g., how to set up data centers) – Africa, South America and Caribbean, Pacific
Lucy on African Marine Atlas:
African Marine Atlas is now using WMS but wants to move forward to CSW and WFS, so it definitely looks ready to participate in the next phase of the ICAN interoperability prototype project
A successful end to Day 1 and a good time was had by all at the reception sponsored by SeaZone Solutions Ltd.!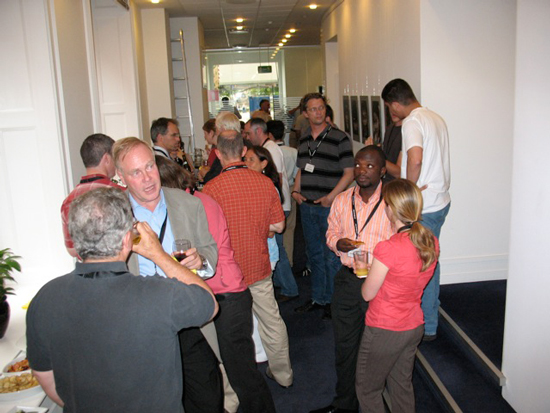 ---
Sunday, 6 July 2008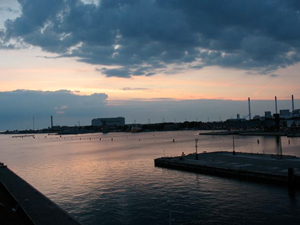 The many participants of ICAN Workshop 3 and the EEA Conference on Coastal Atlas Development are now making their way to wonderful Copenhagen, Denmark. The shot to the left was taken at sunrise from my window at the Admiral Hotel, a lovely location within walking distance of the EEA, Tivoli Gardens and Park, and many other attractions (including what I consider to be the best soft ice cream in the world)!
Final preparations for this week's events are going smoothly, although we are sorry to report the last-minute cancellations of two ICAN speakers: John Helly of the San Diego Supercomputer Center, USA and Sean Paddy of the Institute of Marine Affairs, Trinidad & Tobago, and of the Caribbean Marine Atlas Team. Intense travel difficulties have prevented both of these researchers from attending, but we look forward to working with them as ICAN progresses. John Helly was a participant of ICAN 1 and 2 and assisted greatly with the preparation of a draft governance structure for ICAN that will be discussed during Day 2 of this week's workshop. We came to know of Sean Paddy's work with the Caribbean Marine Atlas at the UNESCO IODE Workshop on Coastal Atlas Requirements in February 2008 in Oostende, Belgium, and look forward to continued work with him and others as the Caribbean Marine Atlas joins in with ICAN initiatives.