Detalles

Publicado: 12 Diciembre 2019

12 Diciembre 2019
David Hart
Esta dirección de correo electrónico está siendo protegida contra los robots de spam. Necesita tener JavaScript habilitado para poder verlo.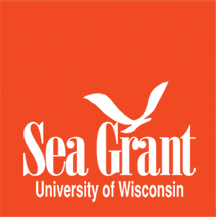 The University of Wisconsin's Wisconsin Sea Grant Institute and the Cartography Lab at the University of Wisconsin-Madison are conducting a two-phase evaluation to identify best practices and future directions for the design and use of coastal web atlases. Preliminary results of this research will be presented at the Social Coast Forum in Charleston, South Carolina in February 2020.
Phase I
The first phase involves a comparative analysis of coastal web atlases in the United States Atlases from Indiana, Maryland, New Jersey, New York, Ohio, Oregon, Texas, Virginia, Washington and Wisconsin will be reviewed by their interface design, usability, map representations and data services. The analysis is organized by the broad categories of maps, tools, catalog and learning resources, where:
Maps are defined as: "Web maps which allow users to view coastal topics as presentational items and lack advanced analysis through exploration."
Tools are defined as: "Web maps and other tools which have advanced analysis and/or exploration features to guide decisions about coastal management."
Catalogs are defined as "Collections of data and/or media which is often accessed through an exploratory interface."
Learning resources are defined as: "Mostly textual information and/or story maps about a particular coastal topic which aim to educate the user on the topic."
The only maps, tools, catalogs and learning resources included for review are those linked from the home page or other affiliated pages of the state coastal web atlases.
Phase II
The second phase is a survey that will be sent to representative users of the same 10 state coastal web atlases beginning in November 2019. The survey will track the same four broad categories of the comparative analysis (maps, tools, catalog and learning resources) and will ask questions about user experiences, values, and opinions regarding these resources.

Insights from both the comparative analysis and user survey will be used to improve the design of the Wisconsin Coastal Atlas. Results should be relevant to developers of other coastal web atlases and could be used more broadly to guide the design and use of geospatial information and maps for coastal management. For more information about this study, contact David Hart with Wisconsin Sea Grant at Esta dirección de correo electrónico está siendo protegida contra los robots de spam. Necesita tener JavaScript habilitado para poder verlo..
Resources
---
Detalles

Publicado: 07 Septiembre 2012

07 Septiembre 2012
Liz O'Dea
Washington State Department of Ecology
Esta dirección de correo electrónico está siendo protegida contra los robots de spam. Necesita tener JavaScript habilitado para poder verlo.
The Washington Coastal Atlas (https://fortress.wa.gov/ecy/coastalatlas/) team has completed phase two of its three-phase redesign project.  In addition to its new look and feel, the atlas now has four use-specific tools that users can access directly from the home page.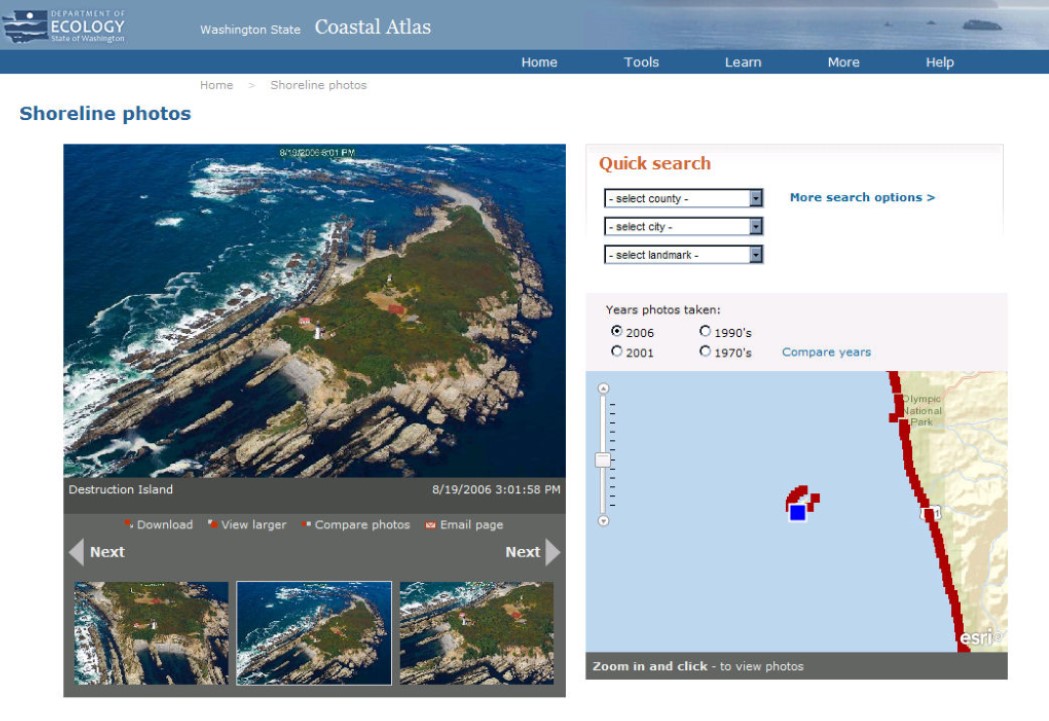 Shoreline Photos:  The Washington Department of Ecology's oblique photo time series of Washington's marine and freshwater shorelines has been the most widely used component of the Coastal Atlas over the years.  The new Shoreline Photo viewer improves the ease of finding a photo for a specific area from multiple time periods.  The viewer enables users to quickly navigate through images along a shoreline and simultaneously see the location on a map.  It also provides a comparison page, where users can view the same area over time from the collection of years. Each year's photos can be independently navigated so that the user can choose the images that allow the best shoreline comparison.
Flood Hazard Maps:  A new viewer for FEMA flood maps makes Digital Flood Insurance Rate maps downloadable directly from the Coastal Atlas, which helps inform real estate decisions and transactions.  The ability to view flood maps superimposed on aerial photography helps people better understand flood issues within the context of the landscape.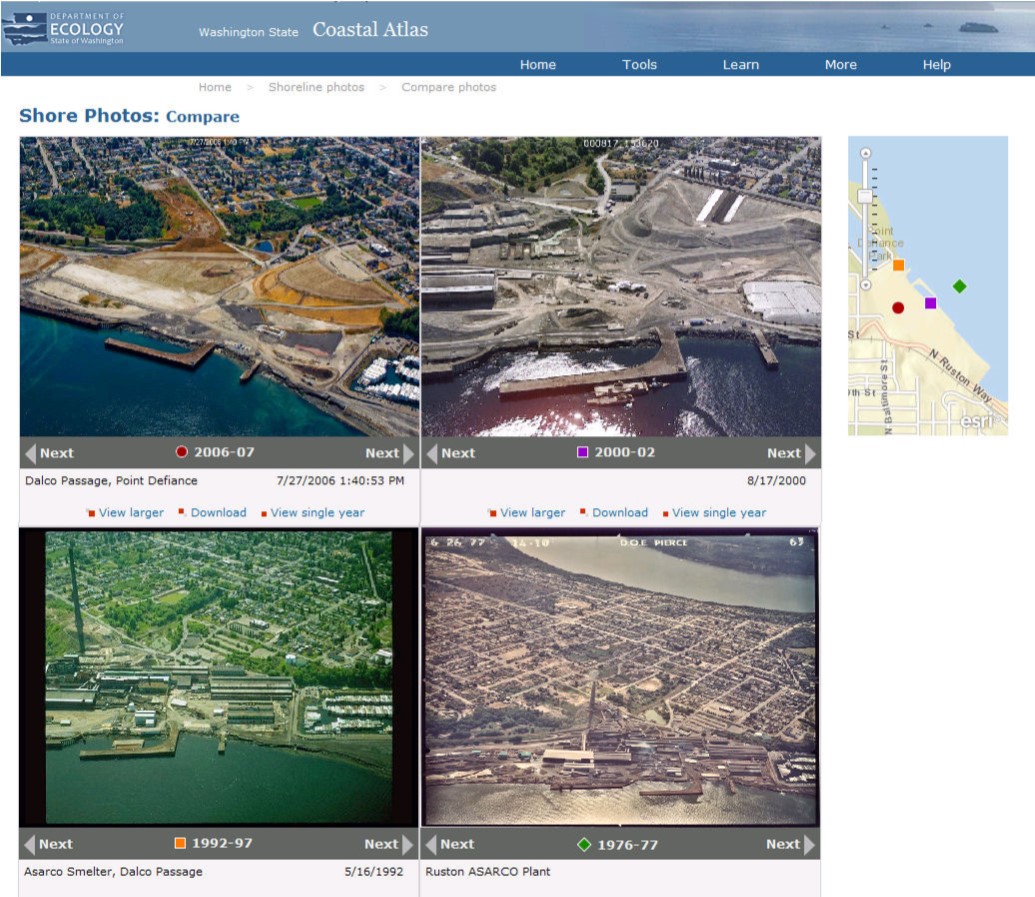 Public Beach Access:  Public access is only available on about 30% of Washington's marine shorelines, and the public's right to access the shoreline is one of the three pillar policies of Washington's Shoreline Management Act.  We have made it easier for people to discover where they can access the shore.  People can find beaches by name, location, or by specific amenities or activities.  Beach information includes photos, amenities, directions, and links to tides, weather, and local information sources.
Beach Closures:  Users can also find beach closure information and monitoring results for all locations monitored by the Dept. of Ecology/Dept. of Health BEACH program.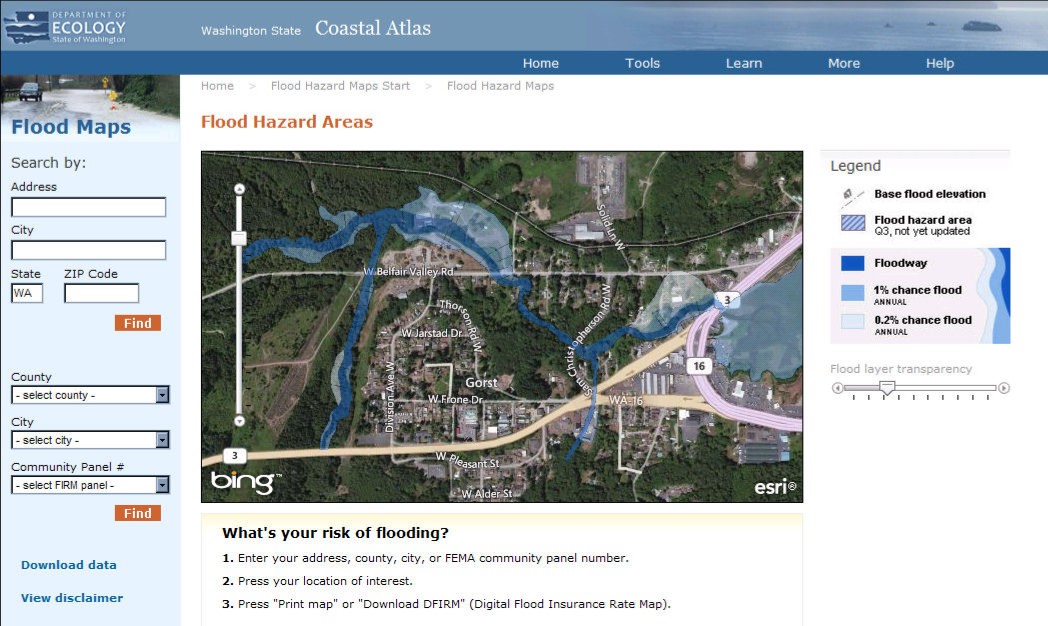 Former Washington Coastal Atlas Manager and ICAN member Kathy Taylor has transitioned to another position in the Department of Ecology.  She was a wonderful leader who guided us through the first two redevelopment phases, and was a strong cheerleader on the value of the Washington Coastal Atlas for the people of Washington State.  Her replacement, Brian Lynn, has been involved with the Coastal Atlas for many years and leads us forward through our third phase of redevelopment: migrating the Washington Coastal Atlas Map from ArcIMS to ArcGIS Server using the JavaScript API, including a new interface design.  This is due to go live in November.