Detalles

Publicado: 29 Septiembre 2013

29 Septiembre 2013
Martyn Cox
Marine Planning and Policy, Marine Scotland
Esta dirección de correo electrónico está siendo protegida contra los robots de spam. Necesita tener JavaScript habilitado para poder verlo.
Introduction
My article in the September 2012 issue of the ICAN Newsletter about "Scotland's Marine Atlas" briefly introduced our on-line GIS tool, National Marine Plan interactive (NMPi) that was under development. NMPi has now reached the stage where it is supporting our public consultation exercise for Scotland's first national marine plan.
Background
The Marine (Scotland) Act 2010 and UK Marine and Coastal Access Act 2009 empower Marine Scotland to deliver marine planning for Scotland's seas on behalf of Scottish Ministers. This will assist in delivering the government's vision of "clean, healthy, safe, productive, biologically diverse marine and coastal environments managed to meet the long term needs of nature and people".
Scotland's first national marine plan is under development: consultation started in July 2013. At the same time, consultation started on designating marine protected areas and identifying areas for marine renewable energy. Being able to map all these activities and proposals is important as we engage with stakeholders. Scotland's Marine Atlas, published in 2011 was the "Information for the National Marine Plan". Marine planning requires a significant and robust evidence base as many other coastal atlases have demonstrated.  NMPi is Marine Scotland's key tool for sharing the data with stakeholders and is complemented by Marine Scotland interactive.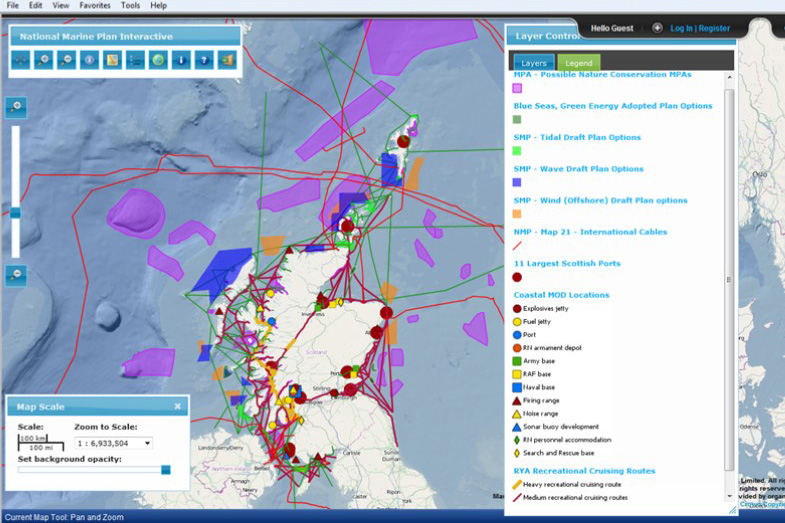 What is NMPi?
NMPi is an online, interactive GIS-based tool (using GeoServer and Open Layers software) allowing you to view different types of information (as map layers) at a scale of your choice. You can find it at: http://www.scotland.gov.uk/Topics/marine/seamanagement/nmpihome
On web pages associated with each layer, additional information is provided. This includes links to related parts of the Atlas, data sources, links to other sources of information and, where appropriate, downloadable spread sheets to update the Atlas graphs.
Data are presented in layers and grouped into the various aspects of the Government's vision for the seas - clean and safe seas; healthy and biologically diverse seas; productive seas; as well as background layers on physical characteristics and administrative boundaries.
All users have access to:
Data display - geographic information through a web-map interface, with a map canvas, a switchable list of layers, and various tools.
Links to associated web pages with additional information.
NMPi's "web map services" using client software (e.g. a desktop GIS package) – a requirement of the INSPIRE directive.
A dedicated version for browsers on mobile devices (SmartPhones and iPADs).
Registered users (free to do so) can access additional functionality:
Create maps for printing.
Develop their own data layers (which can then be submitted to Marine Scotland).
Download certain data (subject to a licence agreement).
New content is being added to NMPi on an on-going basis, while existing content is also being updated.
Collaborative working
Marine Scotland is again working closely with its Atlas partners Scottish Natural Heritage, Joint Nature Conservation Committee, Scottish Environment Protection Agency and the Marine Alliance for Science and Technology Scotland in keeping data sets updated on NMPi.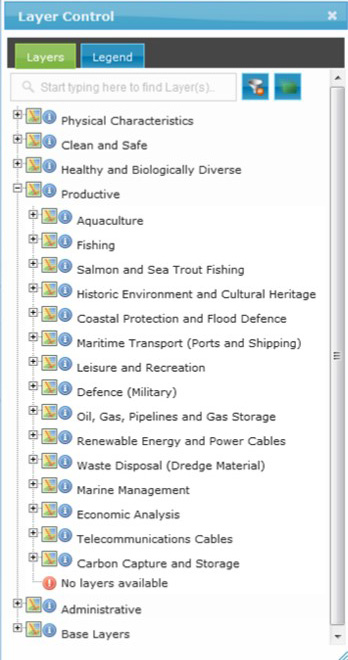 Experiences to share
Marine planning requires many data sets to be effective but they are not all collected either by Marine Scotland (MS) or its' collaborative partners. So MS spends time acquiring data from others (paying for some commercial data sets) so that data can be displayed. The attributes may also have to be limited if there is information of commercial value or a confidential nature. NMPi is designed so that spatial data can be downloaded via a click licence but given the nature and breadth of NMPi's data, the download function is restricted to MS data with signposting to 3rd party web sites for their data.
Summary
There are currently in excess of 200 layers and this looks set to expand.  Developing a system that covers such a range of activities is both challenging and rewarding, as I am sure other ICAN members will agree. The technology we have available today is very powerful whilst at the same time we need to respect intellectual property rights and sensitivities about data, amongst others. There is a much to take into account when making information publicly available. NMPi is the next stage in Marine Scotland's innovations. It follows the successful Atlas and the later e-publication (for iPads and Kindles etc.).

NMPi is an innovative tool to assist Marine Scotland in its delivery of marine planning. It will support policy making as use of the seas changes, whether that is for sustainable economic growth through a variety of human activities or conservation through the designation of marine protected areas.  I am sure NMPi will evolve as needs require. As a member of ICAN we look forward to sharing what we are doing and learning from others in the network.
Figure 2: Layer Control box to show the
structure based on our vision for the seas,
with the Productive Seas section enlarged
Detalles

Publicado: 01 Noviembre 2016

01 Noviembre 2016
Leonardo Arias, Carolina García-Valencia,
Paula Cristina Sierra-Correa, and
Francisco Arias
Marine and Coastal Research Institute INVEMAR. Colombia

Critical ecosystem goods and services provided by the marine environment in the Caribbean are at risk from threats including weak governance, mismanagement, climate change and the inadequate availability and incorporation of data and information in decision-making. The Caribbean Marine Atlas Phase 2 – CMA2 is working on spatial-based technological solutions in support of Integrated Coastal Zone Management (ICZM) and the Caribbean Large Marine Ecosystem Project (CLME) and related decision-making, monitoring & evaluation processes for the Region.
The general objective of CMA2 is sustainable operationalization of an online digital "Caribbean Marine Atlas" technology platform in support of ICZM (with special attention to: coastal hazards, climate change, biodiversity & habitats, fisheries, and land-based sources of pollution) and ecosystem-based management for CLME.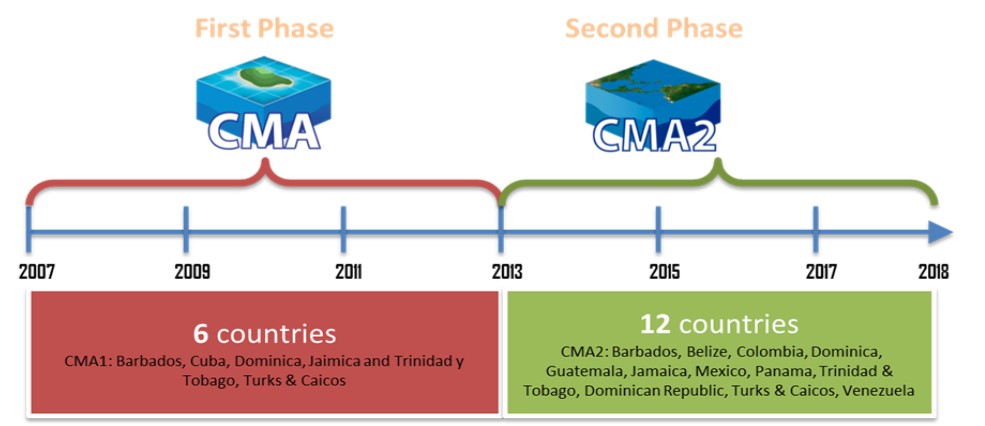 This objective will be achieved by:


Providing and operating an information discovery, Decision-Support (DS)/Monitoring & Evaluation (M&E) mechanism for improved Integrated Coastal Zone Management (ICZM), in at least 7 pilot countries, based on state-of-the-art technology for the online publication, management and exchange of spatial data/information layers and ICZM best practices/tools.


Contributing with the DS/M&E mechanisms at Caribbean Large Marine Ecosystem level through join efforts with CLME.


Enhancing awareness, capacity and participation of key regional and national level stakeholders (both data users and data providers) in the development and use of the information discovery, DS and M&E mechanisms (with special attention to long-term sustainability, and further up-scaling of CMA2 Project results).


Providing mechanisms for seeking and acting on feedback to encourage both partners and stakeholders involvement with project milestone events, activities and results, based on the communication plan.
The CMA2 platform will contribute to better governance by the reduction of the vulnerability of coastal socio-ecological systems in Caribbean States, allowing  decision makers faster access to timely data, geospatial services and applications; using processes and shared infrastructure leading to optimization of the information exchange between participants, permitting reuse as well as the adaptation of geospatial resources for the consolidation of a permanent query tool.
BACKGROUND
First Phase (2007-2013)
The Phase 1 of CMA is a joint project of Caribbean countries Barbados, Cuba, Dominica, Jamaica, Trinidad and Tobago, Turks and Caicos, aimed at providing high quality geospatial data and information related to the marine and coastal zones of the states. The purpose of the CMA1 was to identify, collect and organize available geo-spatial datasets into an atlas of environmental themes for the Caribbean region as a support service to the sustainable development and integrated management of marine and coastal areas of the region. The CMA1 was inspired by the African Marine Atlas project http://www.africanmarineatlas.org
Second Phase (2013-2017)
The CMA2 project, in contrast to CMA1, involved a much large group was invited for the project resulting in 12 participants. They included the national partners Barbados, Belize, Colombia, Dominica, Guatemala, Jamaica, Mexico, Panama, Trinidad & Tobago, Dominican Republic, Turks & Caicos and Venezuela (Figure 1).
The proposed project will identify the specific, policy-relevant coastal / marine data and information outputs needed across the Region, and develop tools and applications to manage, analyses, produce and publish these outputs. The CMA2 project builds upon the experience and lessons learned in the CMA1, Ocean Data and Information Network the Caribbean and South America (ODINCARSA) and Southeast Pacific Data and Information Network in support of Integrated Coastal Area Management (SPINCAM I & II). CMA2 will form an alliance with SPINCAM for indicators, carry out "twining activities", as well as use a handbook for measuring the progress and outcomes of Integrated Coastal and Ocean Management written by the Intergovernmental Oceanographic Commission (IOC).
The project is implemented through the IODE/IOC/UNESCO with the financial support of the Government of Flanders and the regional coordination by the Marine and Coastal Research Institute (INVEMAR).
ADVANCES
The development of CMA2 started with a detailed work plan definition, followed by a work team consolidation and the identification of stakeholders in the Caribbean region. A review of the state of art of the Coastal Marine Atlas was made. The information was organized to take inventory of spatial information and technology platforms available to Global, Regional and Local (National) levels (Figure 2).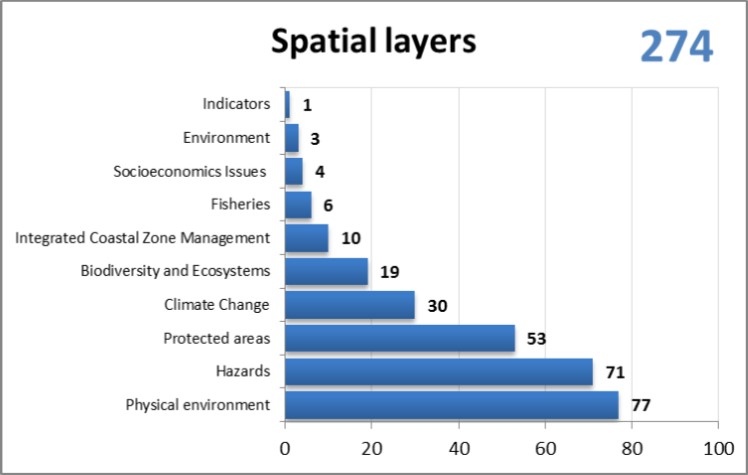 Geonode v4 and its technology was selected to meet the characteristics and technical specifications required for this project. The CMA2 team is working on a prototype of the Caribbean Marine Atlas with GIS and Geoviewer tools (Figure 3) available at www.caribbeanmarineatlas.net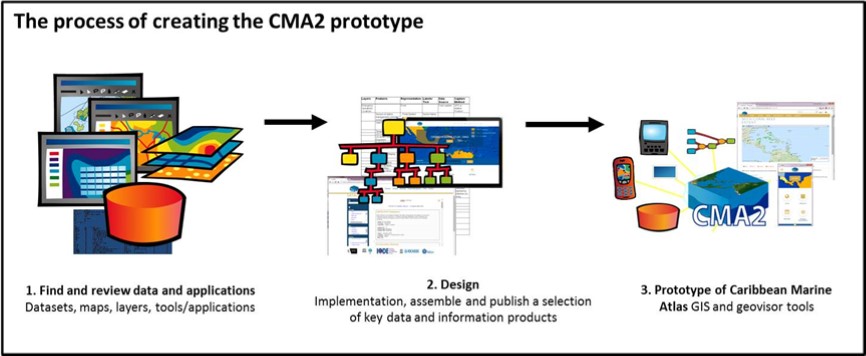 Within the framework of CMA2, fulfilling its objective of contributing to a better integrated management of coastal zones, the implementation of indicators are proposed that help decision making. The Caribbean Region, despite great diversity amongst the countries that comprise it, have problems and issues that are common. This makes necessary the careful design of a range of indicators which are specific, measurable, attainable, relevant and measurable over time; to assist decision-making and management of coastal areas, not only doing it efficiently, but also sustainably and sensitively to the needs of the coastal population. At this stage, the project has proposed an initial battery of 10 indicators, the ultimate goal of these indicators is to generate information that will allow the comparison of the state of different situations common to the countries of the Caribbean, to contribute to the work in the countries of the Caribbean team and provide solutions to problems that exist in the region. The CMA2 team is working on methodologies and search and selection of data sources in each country.
ACHIEVEMENTS
The project has an operational technological platform active on GeoNode with 178 layers, 7 maps, 35 users, 10 documents, calendar and news.
Eleven country partners (9 officially committed)


Ten indicators developing (each country leads one indicator) (sea level change, coral health, protected coastal and marine area, fisheries total catch by country, frequency, magnitude and assessment of impact of natural disasters, occurrence of anomalies on sea surface temperature, invasive species and threatened species, coastal economic activities, coastal population density)


Two training courses with 40 participants from 9 different Caribbean countries (ICZM and Marine GIS) for capacity building


A communication plan developed and running: teleconferences, meetings and two national technical visits to Guatemala and the Dominican Republic to support national processes).


Presentation at congresses (Gestão Integrada de Áreas Litorais (GIAL) 2016 and IAMSLIC 2016)
Join us http://www.caribbeanmarineatlas.net or more information on CMA2, contact to Paula Sierra-Correa Esta dirección de correo electrónico está siendo protegida contra los robots de spam. Necesita tener JavaScript habilitado para poder verlo. or Carolina García-Valencia Esta dirección de correo electrónico está siendo protegida contra los robots de spam. Necesita tener JavaScript habilitado para poder verlo.