Detalles

Publicado: 21 Enero 2019

21 Enero 2019
Joni Kaitaranta and Andžej Miloš, HELCOM Secretariat
Introduction
HELCOM (Baltic Marine Environment Protection Commission - Helsinki Commission) is the governing body of the Convention on the Protection of the Marine Environment of the Baltic Sea Area, known as the Helsinki Convention. The Contracting Parties are Denmark, Estonia, the European Union, Finland, Germany, Latvia, Lithuania, Poland, Russia and Sweden. HELCOM works to protect the Baltic Sea from all sources of pollutions through intergovernmental cooperation. HELCOM is a regional sea convention (RSC) for the Baltic Sea and policy maker for the Baltic Sea area by developing common environmental objectives and actions. One of HELCOM's task is to act as an environmental focal point providing information which requires GIS web mapping tool for providing information and data used in assessment carried out by HELCOM.
HELCOM Map and Data service (HELCOM MADS) was designed to fulfill that requirement and first version was developed in 2010. During 2016 a project was launched where resources were made available to completely renew and update the tool that was reaching the end of its life-span. 
Requirements and use cases
Fundamental requirement for tools used in making available data stems from HELCOM Monitoring and Assessment Strategy, which contains attachment of Data and Information Strategy. The strategy sets out following guiding principle: The HELCOM data and information activities should facilitate access of the general public to environmental information. This includes requirements for various thematic datasets ranging from in-situ monitoring of eutrophication, biodiversity and hazardous substances related data to more aggregated data products on status of marine environment, nutrient loading and trends and overview of maritime traffic related activities.
HELCOM Contracting Parties that are also EU Member State have obligation stemming from Marine Strategy Frame Work Directive (MSFD). The Directive requires coherence and coordination within regions and makes possible reference to assessments/data that is done by Regional Sea Conventions. This sets requirements in relation to data products being made available on regional level and according to INSPIRE Directive.
Maritime Spatial Planning (MSP) requires also regional coordination and coherence of plans across the region and between neighboring countries. According to the MSP Directive, plans should be harmonized across the region and this requires regional level work and agreement on data harmonization. Spatial data should be also spatially very accurate and up-to-date to be useful in the planning process.
According to HELCOM data and information strategy, the target group for information and data products should be also general public / decision makers. This sets a requirement on complexity of information and terms used for displaying results. This purpose sets a requirement to be able to pinpoint to a specific aggregated and simplified map product in the service.
Technical solutions
HELCOM MADS is based on two user interfaces, which are seamlessly interlinked:
Each dataset has a unique ID, which is used to link a record in the metadata catalogue with a dataset in the map viewer. Linkage is done by including ID in the map viewer and metadata catalogue URL. At anytime user can switch between two systems: to view dataset in the map viewer or read metadata and download dataset in the metadata catalogue (Fig. 1).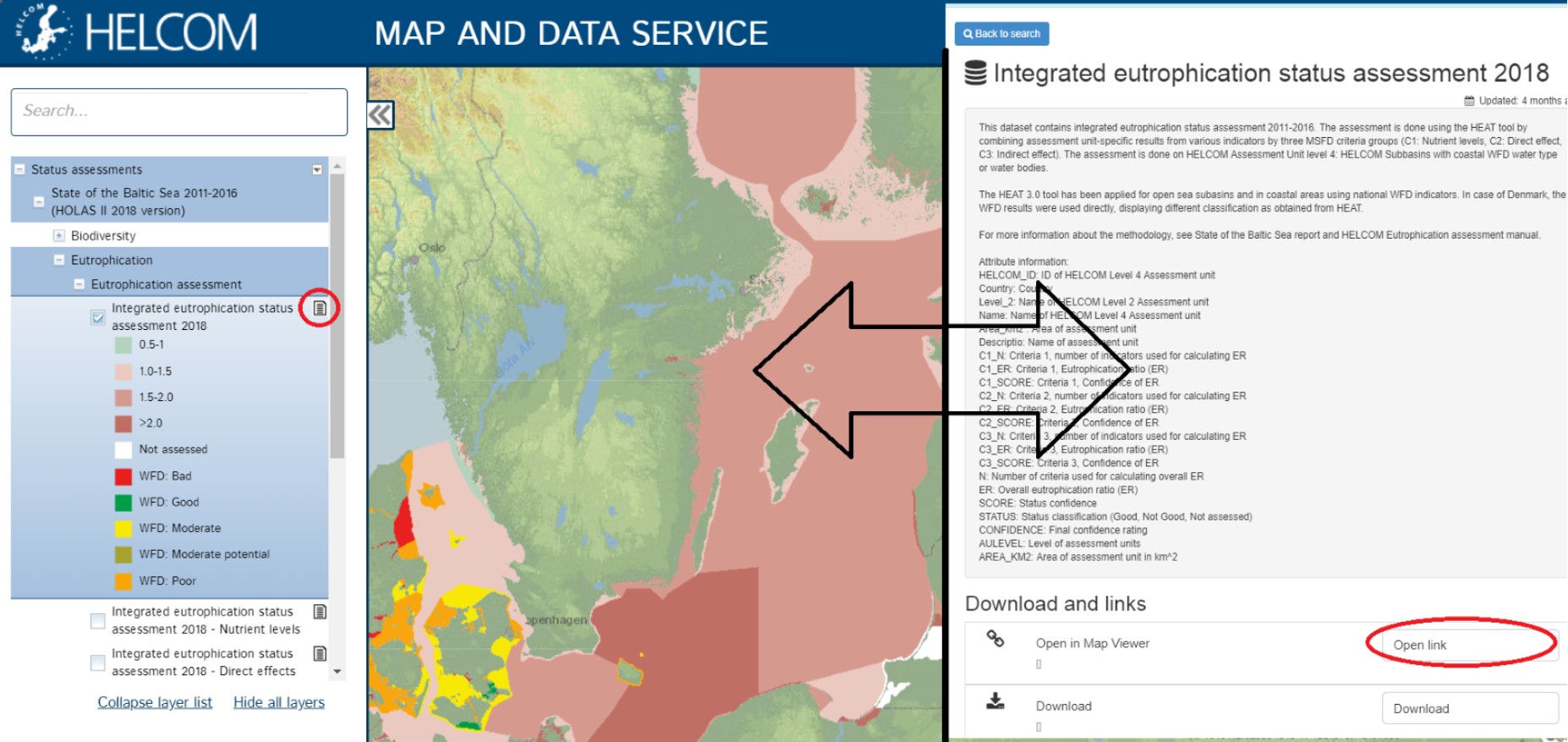 Map and Data service viewer is based on datasets stored in file Geodatabases and published in ArcGIS Server (10.6.1). The Map viewer user interface is developed by HELCOM Secretariat using ArcGIS API for Javascript. The source code for the map viewer part can be found at GitHub under GNU General Public License v3.0: https://github.com/helcomsecretariat/MADS. 
The main features of map viewer (Figure 2) are:
Searchable table of contents
Linkage between to metadata catalogue, accessing datasets and features via URL
feature identification
Attribute table widget
Widget to add WMS services (from predefined list and custom)
Ability to query features with URL parameters
HELCOM Metadata catalogue is an application of Geonetwork and utilizing INSPIRE compatible metadata template with GEMET thesauri. The metadata catalogue contains following features:
Search feature for metadata records titles and content
Downloadable content of each metadata record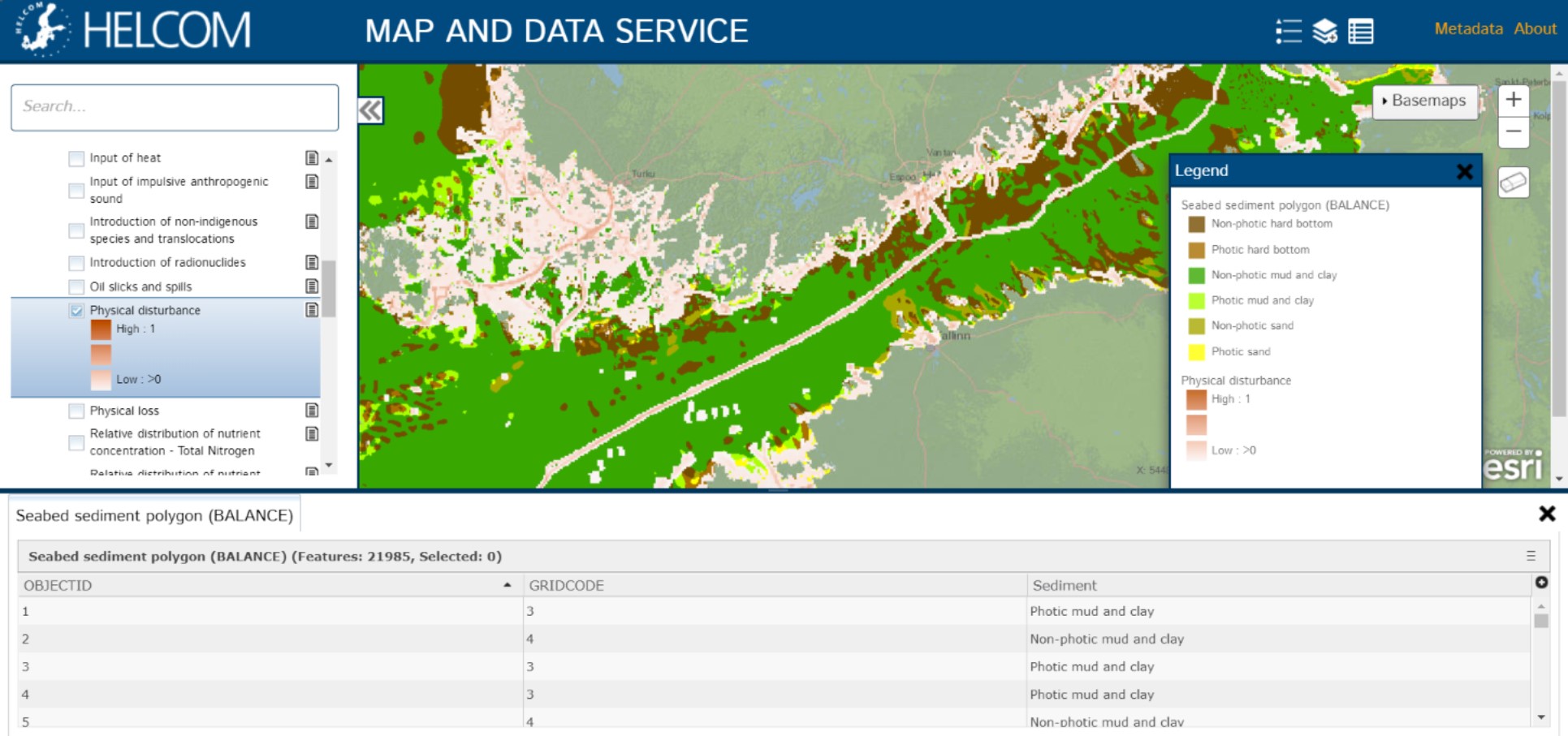 Detalles

Publicado: 23 Junio 2017

23 Junio 2017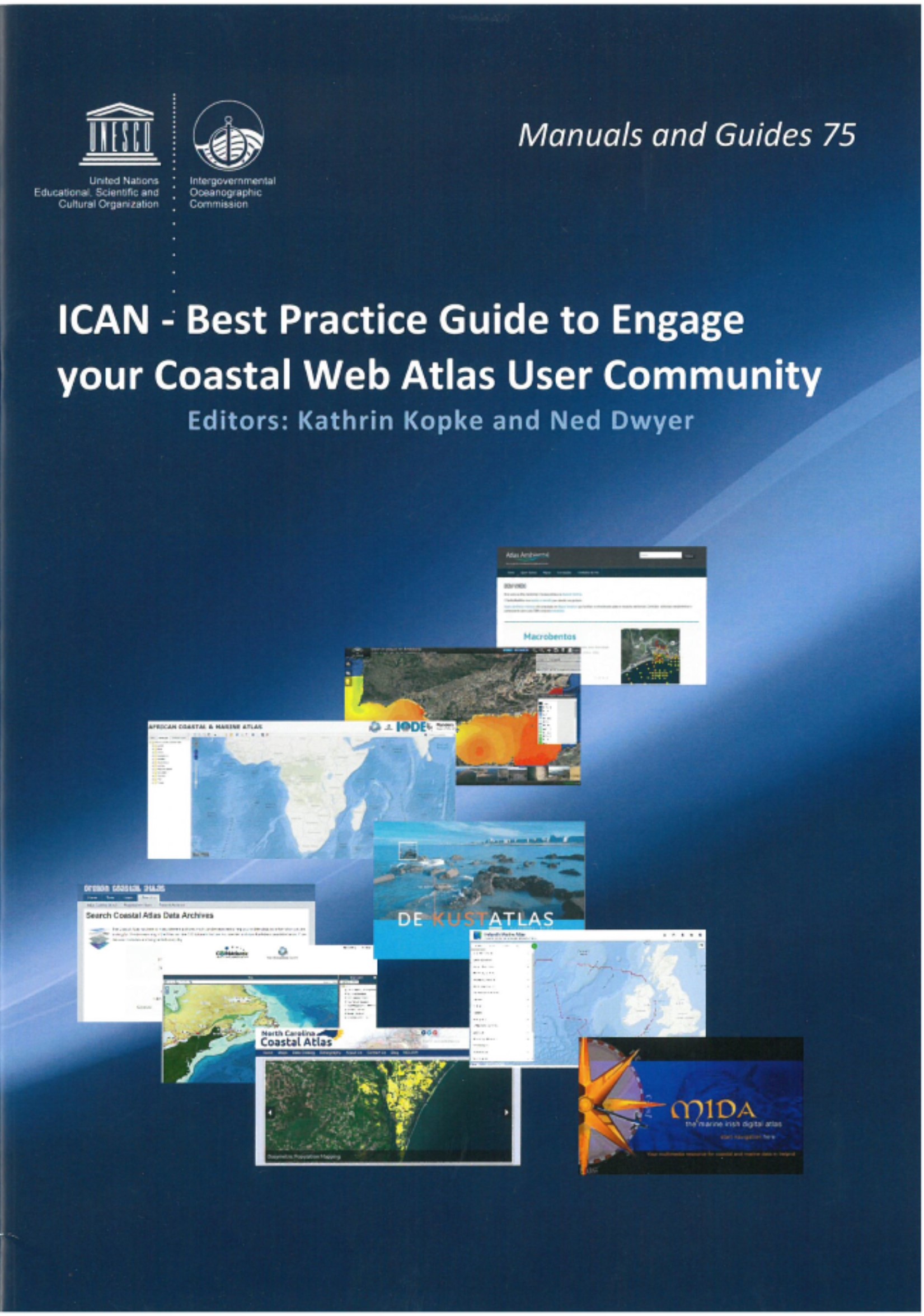 ICAN have compiled this best practice user interaction guide because successful interactions with potential Coastal Web Atlas (CWA) users during the development of any CWA are as vital for the success of the resource as the continued interaction with existing audiences to ensure longevity and continued use. This hand book is conceived as a practical "cookbook" and was compiled by gathering information from ten atlas developers as well as extracting relevant information from ICAN workshop reports. The information has been summarised and analysed leading to two sets of recommendations, one focused on the development of new atlases and the other focused on how to maintain interactions with audiences of already developed atlases. We hope that the handbook will allow both new and established CWA developers and hosts to benefit from best practice examples as well as learn from experienced challenges, in order to increase capacity to successfully interact with user communities and target audiences, while managing coastal and marine data and information in a user friendly way. The final product is a resource that hopes to complement and link to a variety of OceanTeacher activities, support IODE training in courses, thereby being of value to all who manage and present marine data and information.


Now available as IOC Manuals and Guides No. 75:

http://www.oceandocs.org/handle/1834/9579