NMPi is Marine Scotland's on-line mapping portal to make spatial data and information available to all as our new marine planning responsibilities are implemented.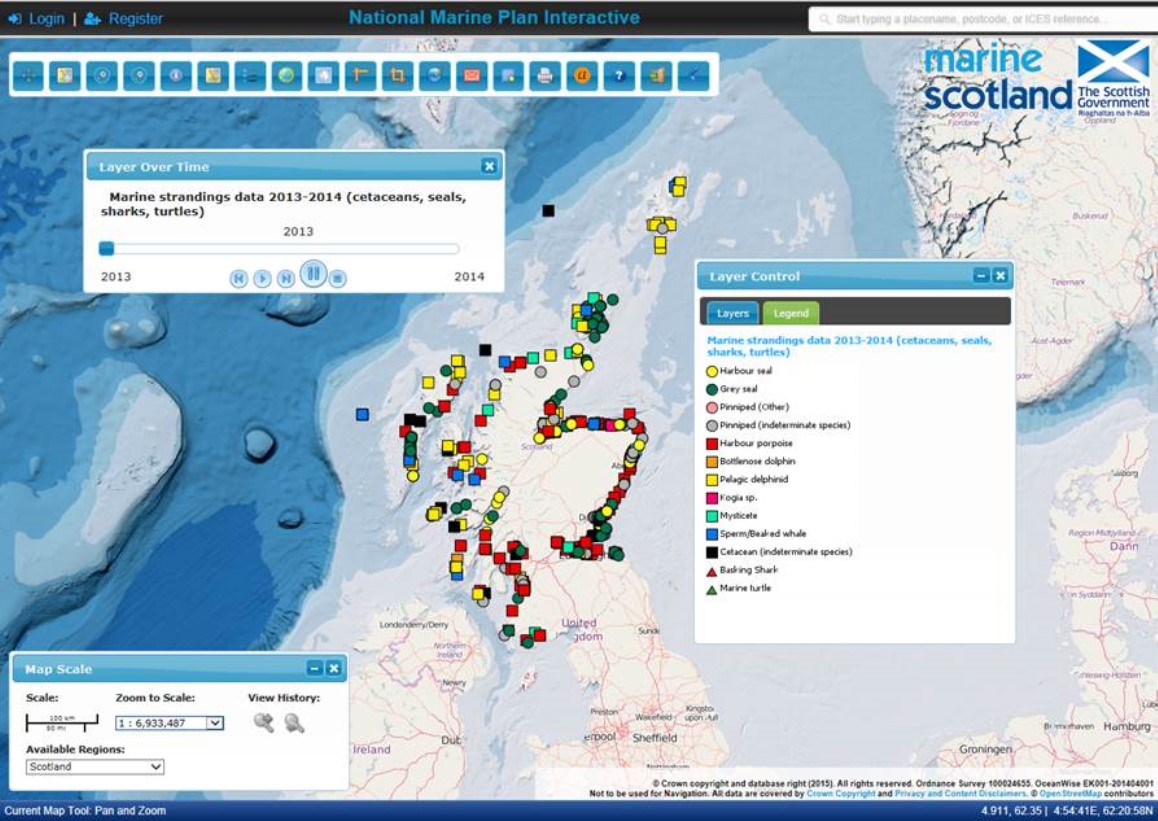 Recently the latest phase in NMPi's functionality development has been deployed. New layers are continually becoming available. But it is not all about increasing the layer count, that isn't necessarily easy for the end user. Our latest functionality includes 'time aware' layers being added. This allows users to see a time series of data in one layer (rather than multiple layers) and animate the movement from one period to another (usually yearly). Layer names will include such terms as 'since' or '2013-2014' in their title to indicate the function. Users can access it by 'right clicking' on the layer name in the Layer Control Box.  The layers including time aware data will increase over time but so far include:
Maritime casualties since 2005


Marine strandings data 2013-2014 (cetaceans, seals, sharks, turtles)


Keep Scotland Beautiful - Blue Flag and Seaside Awards since 2012
Users have asked if the various screen control boxes can be hidden to facilitate cleaner screen shots.  There are now minimising buttons for all control boxes and the ability to hide the main tool bar (by clicking on the far right icon on it).
The main tool bar now also includes:
Spatial query function that allows the user to draw a polygon of interest and identify the layers available for it. These can then be added to your layer control.


Draw circle based on a user input radius.


Zoom in and out.


Print map option. External WMS feeds can also now be printed but only at A4 size and the printed map legend now appears on a separate page.


Submit Fault Report / Comment button
The data input tool bar (registered users only) now has the ability to add points by a latitude / longitude (three format) input.
We are also working with others to improve data flow to NMPi. Scottish Natural Heritage, one of NMPi's partners, has developed a web map service (WMS) that is allowing us to replace the Priority Marine Feature layers in the Healthy and Biologically Diverse Seas section to a direct feed from SNH and with new symbols, as well as add some new layers on basking shark, minke whale and Risso's dolphin for example.
Marine Scotland welcomes feedback on NMPi at any time. Please e-mail This email address is being protected from spambots. You need JavaScript enabled to view it.
NMPi partners: Marine Scotland; Scottish Environmental Protection Agency (SEPA); Scottish National Heritage (SNH); Joint Nature Conservation Committee; Marine Alliance for Science and Technology for Scotland (MASTS).