Brian D. George
Ohio Department of Natural Resources
Office of Coastal Management
This email address is being protected from spambots. You need JavaScript enabled to view it.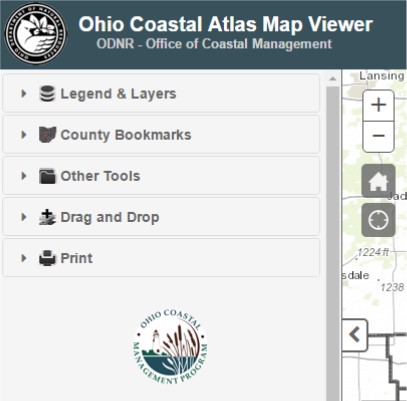 The Ohio Department of Natural Resources Office of Coastal Management coastal.ohiodnr.gov is currently developing a Third Edition of its Ohio Coastal Atlas. The new Coastal Atlas publication is expected to be completed in late 2017. It will be a 10-year update and will correspond with the Ohio Coastal Management Program's 20th anniversary.
The widely-successful, 240-page Second Edition (2007) featured 13 chapters and highlighted content that focused on the cultural, ecological, physical and natural resources in Ohio's Lake Erie basin. It was distributed primarily to coastal decision-makers, local officials, land use planners, coastal engineers, environmental groups, educators and other special interest groups. The forthcoming Third Edition will incorporate updated and newly-acquired GIS datasets, feature new topics of interest, and include all new maps using enhanced cartographic techniques.
The Ohio Coastal Atlas aims to spatially represent big-picture information and topics about Ohio's portion of Lake Erie and its watershed. Development of the Atlas is a collaborative effort involving many federal, state and local partners.
The interactive map viewer for the Ohio Coastal Atlas can be found at: https://gis.ohiodnr.gov/MapViewer/?config=interactiveatlas