Drew Milne
This email address is being protected from spambots. You need JavaScript enabled to view it.
Marine Scotland has recently launched a new website called Marine Scotland Information (http://data.marine.gov.scot). This is designed to act as a central information portal, providing context and connections for the data and resources that Marine Scotland publishes online. It forms part of the Marine Scotland Open Data Network acting as the link between our geospatial platform National Marine Plan interactive (http://maps.marine.gov.scot) (NMPi) and the Data Publication Portal (http://data.marine.gov.scot) to give an integrated suite of services for end users.
Marine Scotland Information automatically collates resources from the other two portals and combines these in information pages where they can be put into context and related to other maps or data downloads.
Whilst both NMPi and the Data Publication Portal provide specialised functionality, Marine Scotland Information is designed to be approachable by all. Content on Marine Scotland Information is presented through the use of information themes and specific data and map categories. Users are able to search across the wide range of topics or delve directly to the subject or data type they require. Specific map layer and data resource information is automatically kept up to date and users are able to access various levels of detail as required.
All map layers on NMPi now have an associated information page on Marine Scotland Information and the new site also manages the resources previously held on the Marine Scotland interactive website.
Marine Scotland Information was built internally using Drupal, an open source Content Management System, which allowed for a flexible development process and access to a wide range of resources available in the open source community. Taxonomies have been used throughout the portal allowing relationships to be built and presented to users providing a more detailed understanding of the information and data available. It also allows users to access the information through a variety of routes. Additionally, the content of MSI will also be available through machine readable services allowing other systems to harvest our information automatically.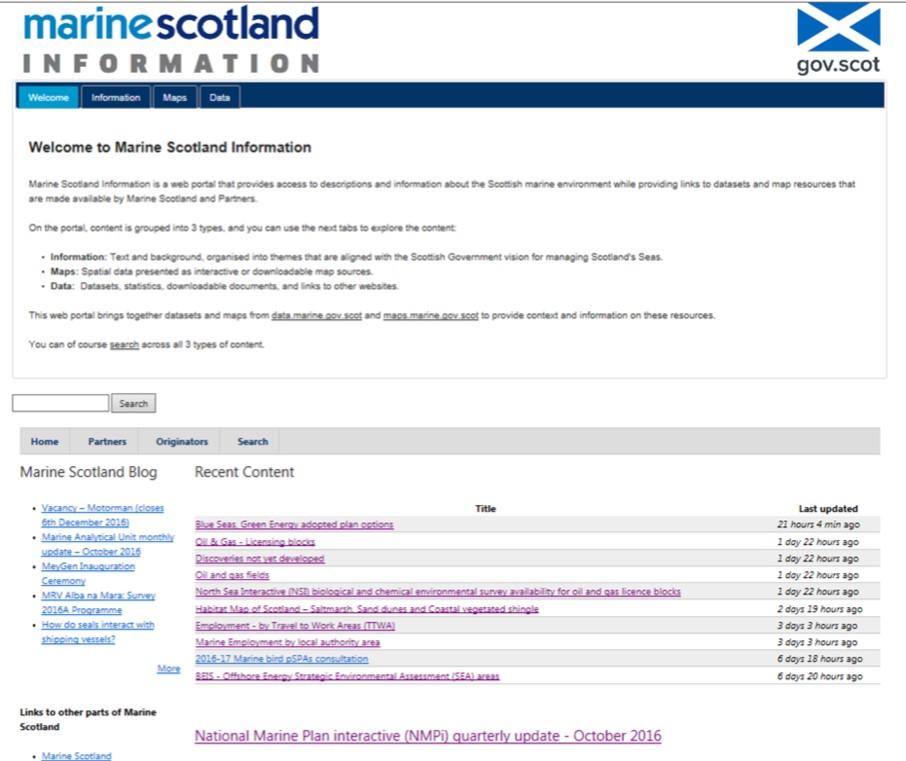 Content on Marine Scotland Information is grouped into three types:
Information: Text and background, organised into themes that are aligned with the Scottish Government vision for managing Scotland's Seas.


Maps: Spatial data presented as interactive or downloadable map sources.


Data: Datasets, statistics, downloadable documents, and links to other websites.


The site is available for all marine stakeholders and demonstrates Marine Scotland's commitment to openness and transparency in its data for the management of Scotland's seas.