Jeffrey L. Herter
Division of Community Resilience and Regional Programs
Office of Planning & Development
New York Department of State
This email address is being protected from spambots. You need JavaScript enabled to view it.

The Gateway has a new look, come check it out: http://opdgig.dos.ny.gov/index.html#/home The NY Department of State Office of Planning & Development updated the home page of the Geographic Information Gateway (Gateway) to a scrolling format which is more mobile device-friendly. The clean, easy to access interface has all the original functionality of the Gateway, with access to four focus areas on the Great Lakes, Waterfront Revitalization, Atlantic Ocean and Climate Change and Resilience and four developed stories on Submarine Canyons, Offshore Energy, DOS Risk Areas and Living Shorelines.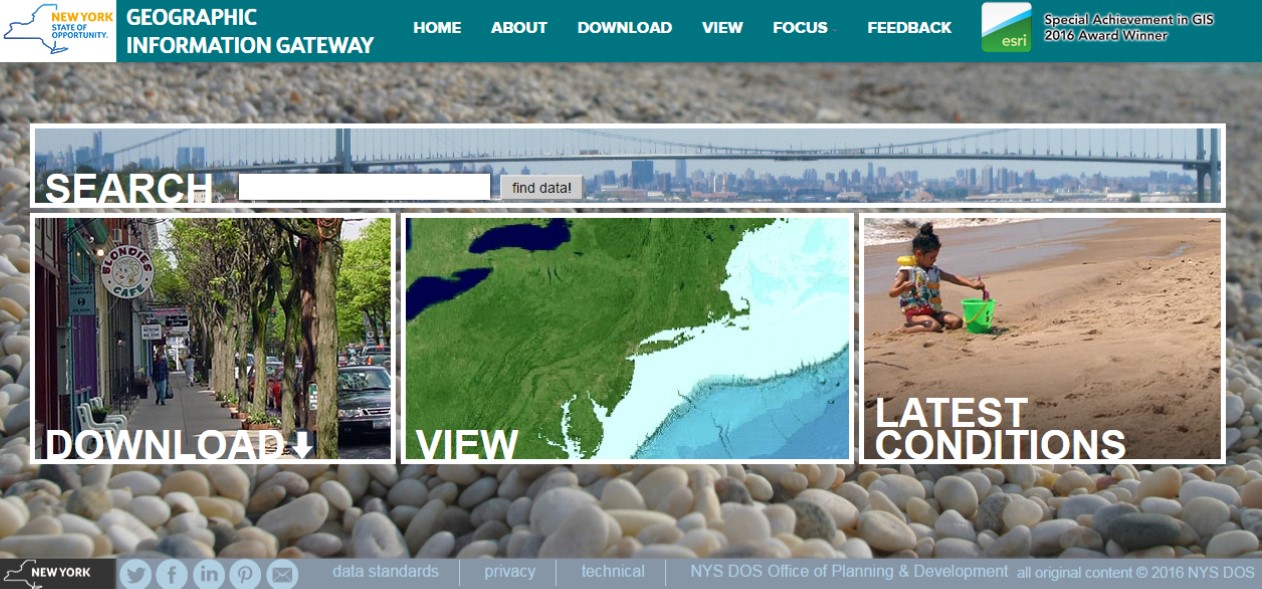 New Inter-Site Connectivity
A new functionality has been added to some of the mappers within the Submarine Canyon Story http://opdgig.dos.ny.gov/#/storyTemplate/4/1/1 You can now open the data layer(s) being displayed in the story mapper in the Gateway's main map viewer to allow you to explore other information in relation to the data set being used to illustrate the story.  How can you tell if you can use this functionality?  Just look for a little globe icon in the upper right corner of the interactive mapper…if it's there you can click on that icon and all the information in the story mapper will be loaded in the main map viewer which will then allow you to add other layers.  It works the other way too!  If you're in the Gateway's main map viewer and have a data layer added to the viewer and you see an open book icon in the legend for that data layer, e.g. Main map viewer with Summer Flounder  you can click on the icon and the story mapper where that data is being used as an example will open and allow you to explore the story further.  We will be building this inter-site connectivity into all our stories, so stay tuned for those updates!
Back on Social Media
After a brief hiatus and a little "now you see me now you don't" action, we have reactivated the Gateway facebook page https://www.facebook.com/informationgateway/ and Twitter account https://twitter.com/NYGateway You can stay up to date with its progress on Facebook and/or by following our Twitter feed. Please like us and share us on fb and retweet!
The Numbers
Sometime during the day on 15 November 2016 visitors exceeded over 1000 hours spent using the Gateway and on 23 November 2016 the Gateway received its first visit from Tunisia bringing the total number of countries to visit from outside the United States to 76.  Notably, the Gateway continues to show steady increases in the quality of visits indicated by increased # of pageviews/month, actions/visit and duration of visits, while the "bounce rate percentage" (folks leaving the site after one action) continues to be in the single digits.
We've got more big changes (teaser: like a big data slug for Long Island Sound, increased inter-site connectivity and more focus areas) coming in the next month or so, so stay tuned!