Ali Al Othman(This email address is being protected from spambots. You need JavaScript enabled to view it.), Yassine Lassoued(This email address is being protected from spambots. You need JavaScript enabled to view it.)
Coastal and Marine Research Centre, University College Cork, Cork, Ireland
As part of UNESCO's International Oceanographic Data and Information Exchange (IODE) Ocean Data and Information Network of Africa (ODINAFRICA) project, the Coastal and Marine Research Centre (CMRC) has developed a second version of the underlying technology used in the Marine Irish Digital Atlas (MIDA: http://mida.ucc.ie ). This system called Smart Atlas is being deployed and used by ODINAFRICA partners. Smart Atlas includes up-to-date web mapping technologies to make it easier to explore coastal and marine information through the development of web-enabled, customised Geographic Information System (GIS) that allows users to visualise and identify marine sources of data. A key feature of Smart Atlas is that it promotes and supports distributed marine dataset sharing, which is vital to facilitate marine information exchange between coastal African states.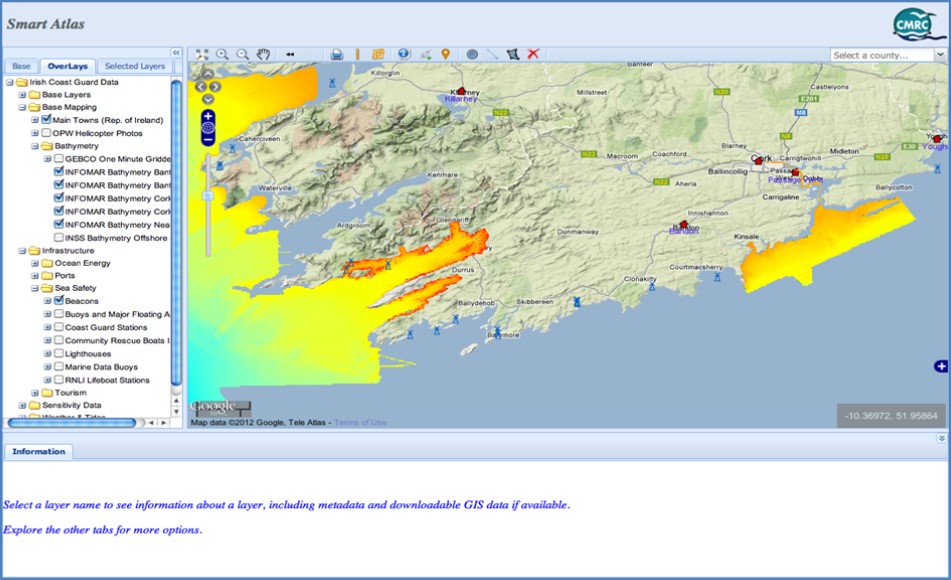 This project follows INSPIRE (Infrastructure for Spatial Information in Europe) Directive recommendations for Data discovery, view, and download services. Being conformant to well established web services makes the services developed available to other organisations to consume and view with minimum effort of integration. The new web client mapping application features expanded functionality, plug-in-free animation, and a new architecture with a rich user experience for every browser. The system provides greater accessibility to data and information in the form of a web enabled and customized GIS, data access and data analysis combined with mapping tools for identification of data sources, visualisation, management, and analysis for different use case scenarios.
Smart Atlas is developed using open source software technology with greater performance, a much more simplified, flexible, and customisable interface using the latest JavaScript frameworks and it supports new mapping tools for adding features, zooming, drawing, measuring, and customised printing. Smart Atlas Layers contain views of layers organised in different tabs with built-in base layers, such as Google maps and Open Street maps, overlays that includes the atlas layers and selected layers that contains the list of active layers, sorted by depth, with the possibility of changing the layer order and layer transparency.
Smart Atlas introduces the integration of Catalogue Services for the Web (CSW). The atlas can be configured to connect to metadata catalogue servers (e.g. Geonetwork, ESRI ArcServer, etc.) so that users can search for data layers within the atlas or other metadata stores included in the search through the distributed CSWs.
Metadata provides information about the content, purpose, location of the data, as well as quality and reliability of the data itself. Using standard metadata web protocols makes the mediation and integration between different metadata providers seamless. Standardised metadata supports users in accessing data by using a common set of terminology and metadata elements. This allows for a quick means of data discovery and retrieval from metadata catalogue servers. The metadata based on standards ensures information consistency and quality, and avoids the loss of important knowledge about the data.
Smart Atlas supports distributed Catalog Service for the Web (CSW) search. The search can be done through a simple and advanced search. The user can simply enter free text in a box and hit the search button or do an advanced search using more detailed criteria like controlled vocabulary keywords that support a more standard search based on  keywords pubpublished by standardization organizations. Users can also select a geographic extent for the searched metadata records. Participating metadata server catalogues can be selected by the user to be validated and included in the search.

Three methods are used for presenting metadata record search results. These are Summary metadata record, Full metadata record and FAQ Metadata record viewed as a simple FAQ style where basic questions/answers about the metadata record are presented.
Once a particular metadata record is presented, it is also possible to either download the datasets associated with it or overlay these datasets on the mapping area through Web Map Service (WMS) for further analysis. This is designed to enhance spatial information exchange, and promote sharing between different organisations through instant search on local and distributed geospatial catalogues.
The CMRC is making Smart Atlas available for download and use via an open source free software license. Contact Ali Al Othman for further details and for the available support options. A Smart Atlas user training workshop for ODINAFRICA participants will take place  in Nairobi, Kenya from 24 - 28 September 2012.