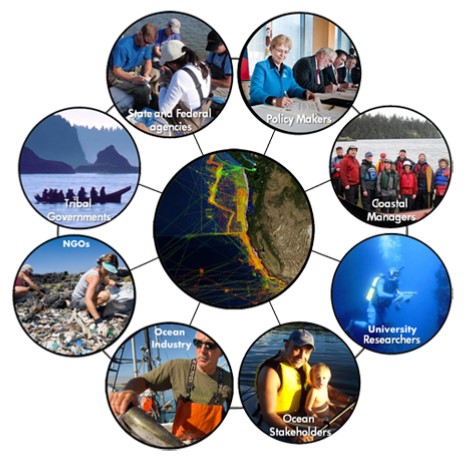 In January, the West Coast Governors Alliance on Ocean Health in the United States launched the West Coast Ocean Data Portal to increase access and discovery of critical ocean and coastal data for the West Coast  (http://portal.westcoastoceans.org/). The site will help coastal managers, researchers, and the general public discover data relevant to West Coast ocean resource management, policy development, and planning. It builds off existing state and federal portals, including OR and WA Coastal Atlases, and curates data around important West Coast ocean health issues to help users easily find what they need. This Portal is a first step in better connecting data and people to inform issues unique to the West Coast region. This work was funded through the NOAA Regional Ocean Partnership grant opportunity which has greatly enhanced the ability of the three states, federal government, tribes, and the Ocean Observation Systems to collaborate on regional ocean health issues.
"The launch of this website is an important step forward for the West Coast Governors Alliance on Ocean Health. Having tools to access and visualize ocean and coastal data will help us address high priority regional ocean issues like marine debris, sea-level rise, ocean acidification, and marine planning. It is truly a collaboration among our state, federal, tribal, and NGO partners to better share data critical to ocean health decision making," said Gabriela Goldfarb, Natural Resources Policy Advisor in the Oregon Governor's Office.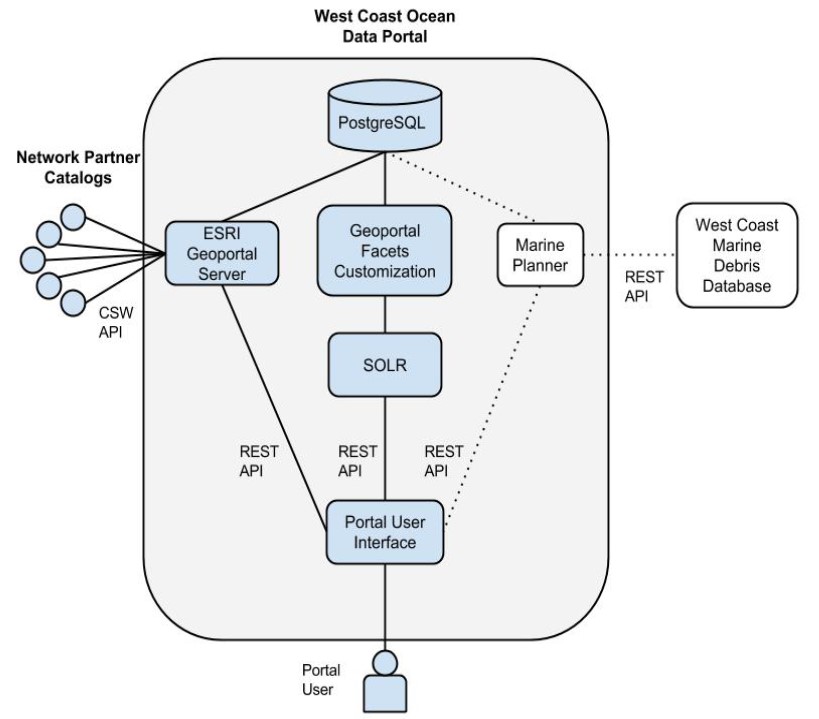 Now for the technical stuff: The West Coast Ocean Data Portal incorporates ESRI Geoportal Server with a PostgreSQL backend, and a prototype component called Geoportal Facets Customization (GFC) (Figure 1). The GFC pulls metadata documents from the back-end Geoportal Server database and push them to SOLR, a search platform that provides fast full-text, faceted and geospatial search capabilities accessible through a robust API. The WCODP user interface uses this SOLR API to provide users with the ability to rapidly search and filter through the available datasets by keyword, category, location, or source (Figure 2).  This is the same technology used in modern e-commerce websites allowing visitors to quickly drill-down and find the product they are looking for, except instead of filtering by product price and feature, the GFC component creates search facets tuned for discovery of spatial datasets by bounding box, and service type. Then once a user finds a dataset they are interested in, they are provided with a range of additional information provided through the metadata including the title, abstract, date published, creator, publisher, contact, use constraints, and all of the available links for accessing the resource (Figure 2). This decoupled, API-driven approach allows these software components to be quickly integrated into a large organized Portal system.
The development of the Portal is guided by a broad Network of ocean data managers and users on the West Coast. This West Coast Ocean Data Network is made up of representatives from state and federal agencies, tribal governments, and NGOs and serves as a forum to connect people around data, outreach, and information technology issues (Figure 3). Participation in the Network is open to anyone with an interest in sharing ocean and coastal data, to learn more please visit http://portal.westcoastoceans.org/connect
Current work on the Portal encompasses the inclusion of federal, academic, and non-governmental data catalogs, including new partnerships with the West Coast Ocean Observing System (OOS) Regional Associations, NOAA Fisheries, and U.S Geological Survey. Our partnership with the West Coast OOS's has been strengthened by a joint Sea Grant fellowship to develop and integrate regional oceanographic products into the Portal to inform West Coast ocean issues like marine debris transport and ocean acidification.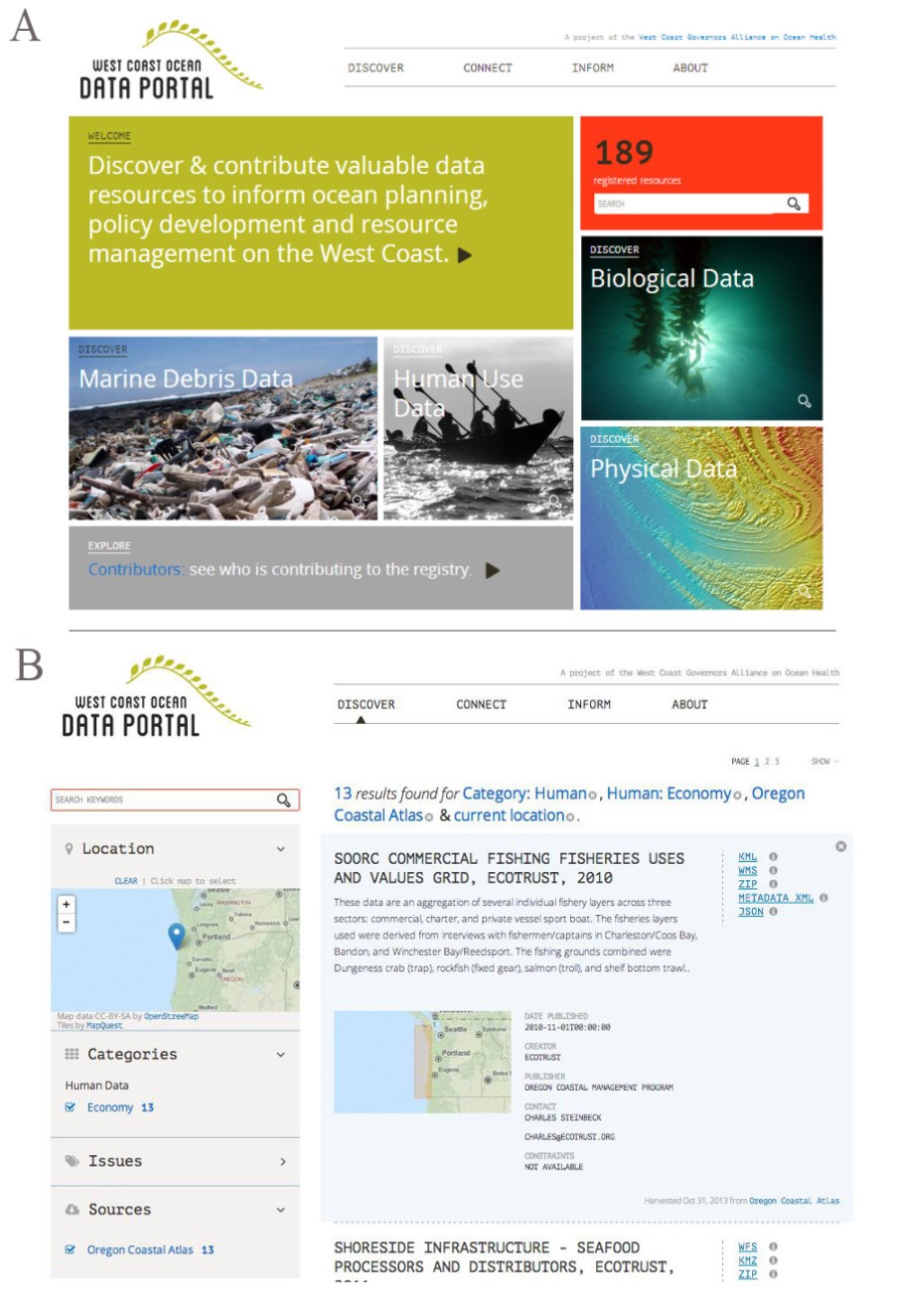 We are excited to be developing visualization tools to better inform a regional assessment of the sources, sinks, and impacts of marine debris in the coastal environment for policy makers, beach cleanup coordinators, and state regulators. We are working with the WCGA Marine Debris Action Coordination Team to integrate their Marine Debris Database (http://debris-db.westcoastoceans.org/) with the WCODP. Part of this work has included the development of a semantic ontology to allow users to easily search, filter, and display the debris types of interest. ICAN's very own, Yassine Lassoued has been leading this work and helping to integrate it with the WCODP. The visualization tools will also be used to allow Portal visitors the ability to view and 'mash-up' any of the data layers that have REST or WMS associated with them.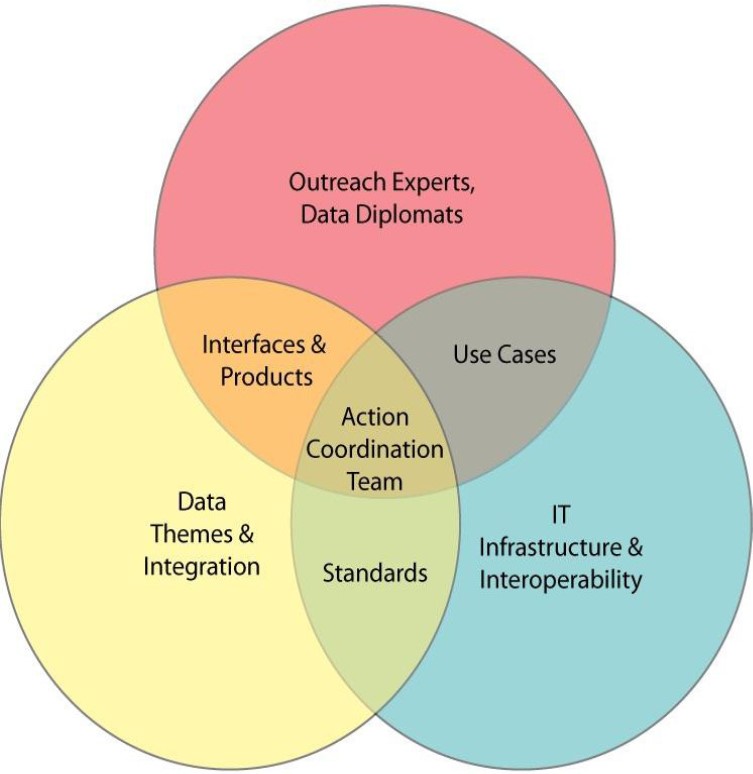 You can visit the West Coast Ocean Data Portal at http://portal.westcoastoceans.org
If you wish to learn more or contribute your data to the Portal, please contact Todd Hallenbeck This email address is being protected from spambots. You need JavaScript enabled to view it.